Skip the powder brows and enjoy permanent, beautiful microbladed brows with this eyebrow enhancement. If you want to enhance your natural beauty with ready-to-go brows, consider eyebrow microblading at Blume Skin & Body.
What is Eyebrow Microblading?
In this procedure, you get a manual tattoo made with a dedicated tool that looks like a slender Exacto knife but isn't a blade at all. A small tattoo device is used with semi-permanent makeup to darken your existing brows and create a shape that is proportionate to your facial features Microblading is available to most of our clients, except those with sensitive skin prone to breakouts.
What to Expect
The Medical Aesthetician arranges tiny needles so they can make small incisions in the skin with the tool's tip depending on the thickness and depth of hair strokes they want to etch. "I dip the needles into pigment when I make each hair stroke, and I ask clients to sit and let the color sink in for a few minutes after I'm done drawing," says Caitlin Sixbey, Certified Microblade Artist. "When you wipe it off, you've got eyebrows."
Eyebrow Microblading Results and Recovery
Generally, it takes two sessions to get the full effects. There are several factors that affect how well you retain pigment. During the initial procedure, less is always better because the pigmentation used may darken during the healing process. On your second appointment, the microblade artist might go over original strokes to darken them for a client, tweak the shape, or build up sparse brows by layering thinner strokes in between.
Downtime is minimal but you may experience scabbing, swelling, and redness during the first week. Avoid sun tanning since the treated area needs to be kept dry during this time. Results last 1-2 years and we recommend a touch-up every 12-18 months to maintain your results. Results may fade faster for people with an oily skin type.
Schedule a Consultation
At Blume Skin & Body, our specialists will make sure your new brows have a natural shape and match your natural hair color to avoid the overdone, false eyebrow look. Schedule a consultation today by calling our office or filling out an online contact form.
I'm so pleased with my experience and interactions with the Blume employees. The customer service is outstanding. The employees are attentive and want their customers to be happy with the results they receive.I'm also loving the results from my facial procedures! I am very happy with the way I look...After the positive experiences and outcome from my Blume visits I can't imagine going anywhere else and being in such good hands.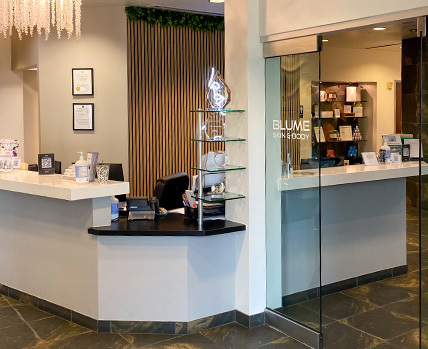 Gallery
Before & After Photos
Blume Skin & Body is committed to providing the best in cosmetic skin treatment procedures and personalized care. View our gallery of incredible results!
View Photos

If you are a new patient, you can save time during your check-in by filling out the New Patient Paperwork package. We look forward to meeting you and helping you achieve your cosmetic goals!
NEW PATIENT INFORMATION
CONTACT US
Begin Your Unique Journey