HydraFacial® and SkinStylus® microneedling are two excellent treatments on their own. Blume Skin & Body is combining these two powerhouse treatments into one time-saving mega skin treatment for intensive skin rejuvenation in Scottsdale, AZ.
What is the HydraFacial + SkinStylus Microneedling Treatment?
HydraFacial MD treats the skin from the outside in while SkinStylus microneedling treats it from the inside out. Our medical aestheticians are seeing significant improvements in their patient's skin after just one treatment! Plus, this facial treatment is safe for almost all skin types and skin tones.
HydraFacial
HydraFacial combines skin cleansing, extraction, exfoliation, and hydration all into one treatment. Depending on the HydraFacial treatment you choose, clogged pores can be treated to improve acne, lymphatic drainage can reduce puffiness and dead skin cells can be exfoliated from the skin's surface for a radiant complexion. This is done completely non-invasively with the HydraFacial wand.
SkinStylus Microneedling
The SkinStylus MicroPen is an FDA-cleared device that is only available to licensed professionals under a Medical Director's supervision. It uses a sterile, disposable needle tip with multiple surgical-grade needles to penetrate the surface layers of the skin, creating microchannels. These tiny skin wounds trigger the body's natural healing process and production of new collagen to combat the effects of aging skin and achieve a healthy glow. The microchannels also allow for better absorption of the nourishing serums provided with the HydraFacial.
HydraFacial + Microneedling Benefits
Tighten and brighten the skin
Reduce enlarged pores
Smooth acne scars
Minimize fine lines and wrinkles
Improved skin tone and texture
What to Expect
The HydraFacial + SkinStylus microneedling takes about one hour to complete. Your treatment will start with a consultation to customize your HydraFacial according to your skin's needs.
We offer a variety of HydraFacial serums and add-ons that target different skin conditions, all with a hydrating boost. HydraFacial treatment is relaxing and not painful. As the SkinStylus microneedling device is passed over the treatment area.
HydraFacial + SkinStylus Microneedling Results and Recovery
After your exclusive HydraFacial and microneedling treatment, patients can expect mild skin redness and mild tenderness to the touch from the microneedling application. These effects will improve within a few days, and you will gradually begin to see visible improvement after your treatment. The brightening effects of the HydraFacial are more immediate while collagen stimulation from microneedling develops over time for natural and long-lasting results that combat skin aging. We recommend a series of three or more treatments scheduled a few weeks apart for optimal results.
Schedule a Consultation
Experience the benefits of two amazing treatments in one session when you schedule a consultation at Blume Skin + Body. Our medical aestheticians look forward to helping you develop a customized treatment plan with cutting-edge treatments for maximum skin rejuvenation.
I've been going to Blume Skin & Body for over 4 years receiving a variety of facial skin treatments and injections including my favorite B12 shots. I would not go anywhere else. The skill level and knowledge of the staff along with their customer service has been exceptional...
I like bloom because they have great prices, really friendly and knowledgeable staff, there's no pressure, and they have a wide variety of options for what you're looking for.
As someone that was extremely nervous about taking the steps toward their first few appointments, the service was and continues to be phenomenal. While it may be expensive depending on your requested services, it is worth it. They'll work with you to determine when and if any follow up appointments are truly needed, rather than just getting you in as soon as possible for another appointment. As well, you get some perks for your birthday and there's always deals on certain products that they'll gladly work with you to determine what's best.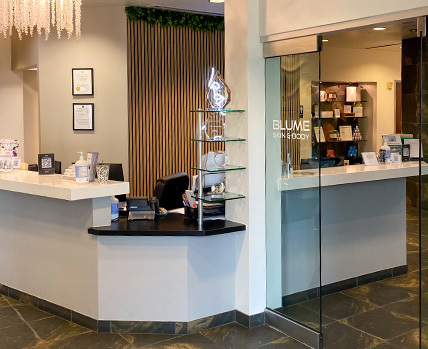 Gallery
Before & After Photos
Blume Skin & Body is committed to providing the best in cosmetic skin treatment procedures and personalized care. View our gallery of incredible results!
View Photos
If you are a new patient, you can save time during your check-in by filling out the New Patient Paperwork package. We look forward to meeting you and helping you achieve your cosmetic goals!
NEW PATIENT INFORMATION
CONTACT US
Begin Your Unique Journey