Pregnancy and childbirth are perhaps some of the most rewarding parts of a woman's life. However, the body undergoes a huge physical transition, and many women are left with stretch marks and scars. While these "imperfections" are reminders of new life brought into the world, new moms might feel self-conscious of their bodies after giving birth. It's completely natural to feel this way, and fortunately, there are ways to reclaim your body. One way you can restore your pre-pregnancy figure is through a Mommy Makeover or "Refresher."
What is a Non-Surgical Mommy Makeover?
The non-surgical mommy makeover is a combination of procedures for women after pregnancy or any women looking to turn back time. This package includes CoolSculpting® & Venus Legacy™ as well as Pollogen R/F Microneedling. This comprehensive treatment involves a combination of custom procedures that target areas of the body affected by pregnancy, such as the stomach and breasts. Whether you want to fix scarring, stretch marks, or a post-partum stomach, a mommy lift can help tighten your belly after pregnancy and improve cosmetic concerns.
What to Expect
The mommy makeover includes a variety of procedures that can be customized for your specific needs:
CoolSculpting®
CoolSculpting® treatments for upper and lower abdomen fat reduction are popular for new moms and anyone who has recently lost a significant amount of weight. This non-surgical procedure freezes fat cells so your body can naturally eliminate them. It's an effective treatment for extra stomach flab, love handles on the waist and back, excess chin fat, and more.
CoolTone® by CoolSculpting®
CoolTone® is an FDA-cleared, non-surgical way to tone and strengthen the abs, glutes, and thighs. CoolTone® can help repair abdominal muscles that have been stretched or damaged during childbirth and help new moms bounce back quicker. By stimulating powerful muscle contractions, CoolTone® technology provides even more dramatic effects than exercising and in less than half the time!
Venus Legacy™
Venus Legacy™ requires a series of 8 skin-tightening treatments. This non-invasive procedure uses radio frequency and magnetic pulses to tighten saggy skin and give you a more contoured shape. It is an effective treatment for the abdomen, arms, face, and neck.
Pollogen R/F MicroNeedling
RF microneedling is an effective treatment for stretch mark reduction and scar revision. During treatment, fine micro-pins use radiofrequency microneedling to penetrate the dermal layer of the skin, which stimulates the body to produce new collagen and elastin. Microneedling targets stretch marks, scarring, fine lines, sun damage, and more on the face and body.
Non-Surgical Mommy Makeover Results and Recovery
The Blume mommy makeover is a non-surgical approach that requires no downtime or recovery. You can feel great about your body without having to take time off from your kids! Results vary among each of these procedures, but you can expect results to start developing within a few weeks after your treatment and improve over time.
Schedule a Consultation
If you're wondering how to tighten your skin after pregnancy and childbirth, look no further than Blume Skin & Body! Our experienced aestheticians are experts in cosmetic skin treatment procedures with a commitment to personalized care and we strive to enhance our client's natural beauty and confidence. Schedule a consultation today by calling our office or filling out an online contact form.
I have been going to Blume skin and body for over seven years the customer service is amazing! They are the expert at skin care and have the latest and advanced equipment to make you look your best.
I've been going to Blume Skin & Body for over 4 years receiving a variety of facial skin treatments and injections including my favorite B12 shots. I would not go anywhere else. The skill level and knowledge of the staff along with their customer service has been exceptional...
The standard of service, care and professionalism at the Blume Skin Centre are exceptional! I have recommended Dr. Blume and his staff to all of my friends, and will continue to entrust them with my skincare and beauty needs.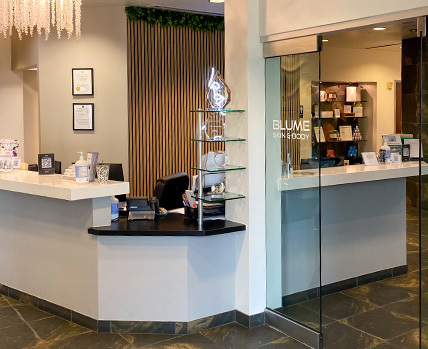 Gallery
Before & After Photos
Blume Skin & Body is committed to providing the best in cosmetic skin treatment procedures and personalized care. View our gallery of incredible results!
View Photos

If you are a new patient, you can save time during your check-in by filling out the New Patient Paperwork package. We look forward to meeting you and helping you achieve your cosmetic goals!
NEW PATIENT INFORMATION
CONTACT US
Begin Your Unique Journey