Medical-grade facials combine relaxation with intensive skin rejuvenation. These treatments are perfect for patients who want to clear acne, improve signs of aging, brighten hyperpigmentation, and more! With a customizable treatment plan, the benefits are endless.
What are Medical-Grade Facials?
Medical-grade facials use clinically proven skin products customized to each patient's skin type and skin concerns. All our facials are performed by medical aestheticians who have an in-depth understanding of the skin and can offer you recommendations for the best products to meet each individual need.
What to Expect
A facial at Blume Skin & Body always starts with a consultation where you will fill out a form regarding your skin concerns, lifestyle habits, and current skincare routine. Your medical aesthetician will use this form to determine which products and treatments should be used.
The basic steps of our medical-grade facials include:
Cleansing: Your face, neck, and chest will be thoroughly cleansed.
Skin Analysis: Your provider will examine your skin under a magnifying lamp to determine your skin type and skin conditions.
Steam: Warm steam will be applied to your face to soften blackheads and whiteheads. This step is skipped for clients with sensitive skin.
Exfoliation: Microdermabrasion or chemical exfoliation will scrub away dead skin cells and stimulate blood flow to the face. This can be done during or after the steam process.
Extractions: If you have blackheads, whiteheads, or milia, these will be carefully extracted.
Facial Message: Classic techniques will be used to stimulate your skin and facial muscles while you relax.
Facial Mask: A specialized mask will be used based on your skin type and skin condition(s).
Customized Skincare: An application of toners, serums, moisturizers, and sunscreens.
Medical-Grade Facials Results and Recovery
Our medical-grade facials are relaxing treatments that require no downtime. You will immediately see brighter, refreshed skin but if you are struggling with a specific concern, you may want to schedule a monthly facial.
Schedule a Consultation
If you want to treat yourself and your skin to a relaxing spa day, consider a medical-grade facial at Blume Skin & Body. You can schedule a consultation and skin analysis by calling our office in Scottsdale, AZ, or filling out an online contact form.
Caitlin gives the very best facials and skin treatments of anyone around. I've tried a few local places in Mesa, but decided the 40 minute drive to get to the Blume Center is well worth  my time! No one gets my skin so clean and glowing!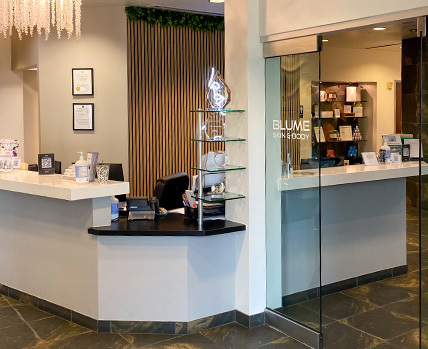 Gallery
Before & After Photos
Blume Skin & Body is committed to providing the best in cosmetic skin treatment procedures and personalized care. View our gallery of incredible results!
View Photos

If you are a new patient, you can save time during your check-in by filling out the New Patient Paperwork package. We look forward to meeting you and helping you achieve your cosmetic goals!
NEW PATIENT INFORMATION
CONTACT US
Begin Your Unique Journey