If you want to eliminate excess fat beneath the chin without the need for surgery and a long recovery, Kybella® is the perfect option! This unique FDA-approved injectable is designed to break down stubborn fat with only a few quick treatments.
What is Kybella®?
Kybella® is a unique type of injectable made from deoxycholic acid, a chemical that breaks down and destroys fat cells. This acid is a naturally occurring molecule in the body so there is no risk of an allergic reaction. Kybella® injections can dramatically improve the appearance of a double chin (submental fat) or sagging jowls without the need for chin surgery or a neck lift.
What to Expect
Kybella® treatment takes less than 45 minutes; the injections themselves only take 15 minutes. First, that treatment area is outlined so that the injections can be placed into specific points for a smooth, proportionate finish. A topical numbing cream is applied to alleviate discomfort and then a fine needle is used to inject Kybella® la into various points around the neck and under the chin.
Kybella® Results and Recovery
Mild swelling and redness are common immediately after treatment, but this will reduce within 3-7 days. Over time, your jawline will appear more defined and vertical necklines will be smoother. For optimal results, most patients require two Kybella® treatments scheduled a couple of months apart. Further treatment can also be used for patients with more severe fat buildup.
After each treatment, there is no downtime or recovery. Itchiness, redness, and swelling around the injection site are common but should resolve within 48 hours. Results will gradually develop 4-6 weeks after the Kybella procedure as the deoxycholic acid works to dissolve fat under the chin.
Schedule a Consultation
Kybella® is an innovative cosmetic procedure that allows for fat reduction with minimally invasive measures! To improve your facial profile, schedule a consultation with our expert nurse injectors and medical aestheticians at Blume Skin & Body.
I have been going to Blume skin and body for over seven years the customer service is amazing! They are the expert at skin care and have the latest and advanced equipment to make you look your best.
I've been searching all over town trying to find a place that could help me to achieve the skin I've been dreaming of. After one appointment, I already feel like I no longer need to keep searching. I was uplifted when I was told I only needed minor treatment and an updated skin care regimen. Also, the staff here are so friendly and acknowledgeable!
I'm so pleased with my experience and interactions with the Blume employees. The customer service is outstanding. The employees are attentive and want their customers to be happy with the results they receive.I'm also loving the results from my facial procedures! I am very happy with the way I look...After the positive experiences and outcome from my Blume visits I can't imagine going anywhere else and being in such good hands.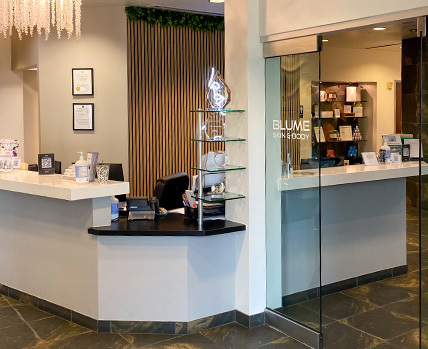 Gallery
Before & After Photos
Blume Skin & Body is committed to providing the best in cosmetic skin treatment procedures and personalized care. View our gallery of incredible results!
View Photos

If you are a new patient, you can save time during your check-in by filling out the New Patient Paperwork package. We look forward to meeting you and helping you achieve your cosmetic goals!
NEW PATIENT INFORMATION
CONTACT US
Begin Your Unique Journey