The 3D Collagen Boost is the perfect anti-aging package to treat collagen loss on three different levels. This combination treatment includes 3 procedures and products for a reduced price of $5,200!
What is 3D Collagen Boost?
The 3D Collagen Boost combines three skin rejuvenation treatments:
1. Ultherapy
Ultherapy functions as a non-surgical facelift that improves skin laxity and sagging on the face and neck. Using ultrasonic energy, Ultherapy eliminates sagging jowls, deep facial folds, and loose skin on your cheeks, forehead, and eyes.
2. Radiesse
With the 3D collagen boost package, you receive 2 syringes of Radiesse – the only structural filler that can treat volume loss and stimulate collagen production. Radiesse improves the appearance of deep wrinkles and fine lines such as nasolabial folds and smile lines. It can even fill in hollowed areas on the back of your hands!
3. Neocutis MicroFirm Neck Cream
The MicroFirm Neck Cream from Neocutis stimulates collagen production and adds moisture to the skin for added rejuvenation. This dermatologist-recommended skincare product will improve skin texture and elasticity.
What to Expect
First, your skin specialist will discuss your cosmetic goals to determine your target areas for Ultherapy and Radiesse. During treatment, we will start with Ultherapy which uses a handheld non-invasive device to deliver powerful ultrasonic energy to your skin. Next, Radiesse will be injected with a fine needle in the areas where you want to add volume and improve the appearance of deep facial lines. Your treatment will be completed with an application of the MicroFirm Neck Cream.
3D Collagen Boost Results and Recovery
There is minimal downtime after the 3D Collagen Boost treatment. Minor redness, swelling, and bruising is common but will subside within a few days or less. To minimize swelling, avoid sun exposure and apply a cold compress as needed.
Rebuilding collagen is a process that takes time but this also means you will have natural-looking results that build gradually. You will start to see lifted, firmer skin after 3-6 months and these results last for years! The collagen boost your body receives slows down the aging process to eliminate sagging skin and wrinkles, rejuvenating your youthful appearance.
Schedule a Consultation
Give your skin the ultimate gift with the 3D Collagen Boost package! Schedule your consultation today at Blume Skin & Body in Scottsdale, AZ.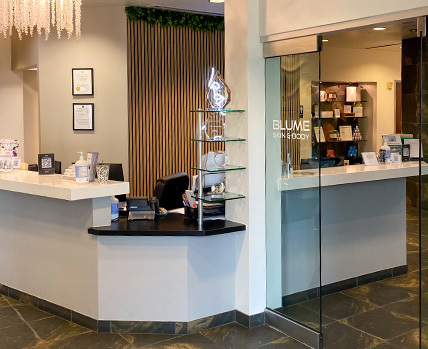 Gallery
Before & After Photos
Blume Skin & Body is committed to providing the best in cosmetic skin treatment procedures and personalized care. View our gallery of incredible results!
View Photos

If you are a new patient, you can save time during your check-in by filling out the New Patient Paperwork package. We look forward to meeting you and helping you achieve your cosmetic goals!
NEW PATIENT INFORMATION
CONTACT US
Begin Your Unique Journey