The Sciton BBL® and MOXI® lasers pair perfectly for a combination skin renewal treatment that targets a wide variety of skin concerns. This is a great solution for anyone who wants to enhance their natural beauty and feel more confident in their skin!
What is Sciton BBL® + MOXI®?
This laser treatment combines two of our favorite Sciton lasers for dramatic results with little downtime. Sciton BBL® uses powerful intense pulsed light to target uneven skin pigmentation, age spots, and sun damage. The Sciton MOXI® non-ablative laser uses fractioned laser energy to create micro coagulation zones (microchannels) in the skin and trigger the body's natural healing process.
As the micro zones heal, collagen production increases, and renewed skin beneath damaged surface cells is revealed! This new, healthy skin will significantly improve skin tone, eliminate surface blemishes, and lift aging skin.
What to Expect
During your treatment, you will be kept comfortable with a topical numbing cream and a gentle breeze of cold air. Skin irregularities will be smoothed away as the BBL® and MOXI® lasers are passed over your skin. Treatment takes less than an hour and no downtime is required so you can leave and continue with your daily activities.
Sciton BBL® + MOXI® Results and Recovery
After Sciton BBL® + MOXI® treatment, most patients experience minor redness, swelling, and tenderness for the first 1-2 days but little to no downtime is required. Results usually develop within 5 days but this may vary for each patient. You will see more radiant skin and troublesome age spots will have significantly improved! Regular maintenance treatments can be scheduled to maintain and build upon your results.
Schedule a Consultation
Blume Skin & Body is Scottsdale's leading med spa for aesthetic treatments and our expert medical aestheticians offer the latest, most innovate treatments for the best results. Schedule a consultation today by calling our office or filling out an online contact form.
I want to start by saying I am an aesthetician myself and I was so impressed with the level of professionalism the staff at Blume Skin demonstrated. I received the BBL laser treatment and I am very happy with my results. I will be going back to complete the three recommended treatments.
The standard of service, care and professionalism at the Blume Skin Centre are exceptional! I have recommended Dr. Blume and his staff to all of my friends, and will continue to entrust them with my skincare and beauty needs.
I have been going to Blume Skin and Body for over 6 years.  I get a facial once per month.  I get Botox every 3-4 months.  I do a laser treatment on my face and neck once per year.  Sandra and her team keep me looking my best as I enter my goddess years.  The team at Blume are the most professional technicians.  They have detailed procedure protocols with the highest quality products.  The facility is beautiful and always perfectly clean.  Sandra and her team are regularly training on new technologies that they share with their clients.  I cannot imagine going anywhere else.  They are simply the best.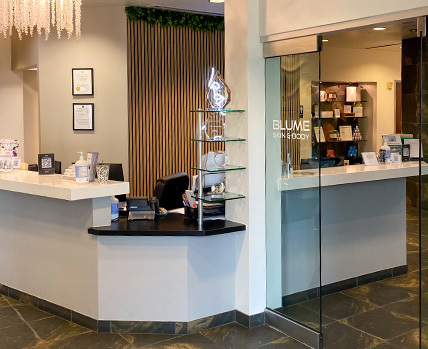 Gallery
Before & After Photos
Blume Skin & Body is committed to providing the best in cosmetic skin treatment procedures and personalized care. View our gallery of incredible results!
View Photos

If you are a new patient, you can save time during your check-in by filling out the New Patient Paperwork package. We look forward to meeting you and helping you achieve your cosmetic goals!
NEW PATIENT INFORMATION
CONTACT US
Begin Your Unique Journey