SkinTyte® is a non-surgical skin tightening laser treatment designed to increase skin firmness and improve the appearance of sagging skin – two of the most common signs of skin aging. You can enjoy a more youthful appearance with natural enhancement and no invasive surgical methods!
What is SkinTyte®?
SkinTyte® is a laser treatment that targets skin laxity and other visible signs of aging like fine lines and wrinkles. A series of rapid light pulses delivers heat energy into the skin, stimulating the body's natural healing process and new collagen production. As collagen rebuilds, the skin will tighten and firm for a lifted, smooth look and texture.
What to Expect
SkinTyte® treatments only take about 30 minutes and are performed in one of our comfortable treatment rooms. As the laser is passed over your skin, you will feel a warming sensation that is not painful. No anesthetic is needed. SkinTyte® can be used on the face and neck or other areas of the body such as the abdomen and arms. Depending on the size of your treatment area, the procedure may take a little longer.
SkinTyte® Results and Recovery
SkinTyte® treatment requires minimal downtime and recovery. Temporary mild redness is the only side effect so patients can immediately return to work and all their normal activities. 3-5 treatments are recommended for optimal results. After each treatment, you will see gradual improvements like tighter, firmer skin and smoother skin texture as collagen rebuilds. Results last up to one year and can be maintained with additional treatments.
Schedule a Consultation
If you feel self-conscious about sagging skin and want to restore a more youthful appearance, consider SkinTyte® treatment at Blume Skin & Body. To schedule a consultation, please call our office in Scottsdale, AZ, or fill out an online contact form.
I've been searching all over town trying to find a place that could help me to achieve the skin I've been dreaming of. After one appointment, I already feel like I no longer need to keep searching. I was uplifted when I was told I only needed minor treatment and an updated skin care regimen. Also, the staff here are so friendly and acknowledgeable!
I have been going to Blume skin and body for over seven years the customer service is amazing! They are the expert at skin care and have the latest and advanced equipment to make you look your best.
The standard of service, care and professionalism at the Blume Skin Centre are exceptional! I have recommended Dr. Blume and his staff to all of my friends, and will continue to entrust them with my skincare and beauty needs.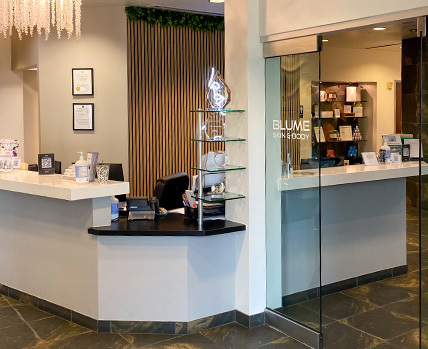 Gallery
Before & After Photos
Blume Skin & Body is committed to providing the best in cosmetic skin treatment procedures and personalized care. View our gallery of incredible results!
View Photos

If you are a new patient, you can save time during your check-in by filling out the New Patient Paperwork package. We look forward to meeting you and helping you achieve your cosmetic goals!
NEW PATIENT INFORMATION
CONTACT US
Begin Your Unique Journey