At Blume Skin & Body, we offer the gold standard in microneedling. Microneedling can treat a variety of skin conditions and is safe for all skin types and tones.
What is Microneedling?
Microneedling is a minimally invasive procedure that uses tiny needles to create microscopic injuries on the skin's surface. This stimulates your body's natural healing process and the growth of new collagen and elastin to plump and rejuvenate the skin. New collagen induction will improve skin elasticity and uneven skin tone for beautifully smooth, radiant skin.
What to Expect
Blume Skin & Body uses the Skinstylus Pen, an FDA-approved device with leading skin rejuvenation technology. Before your treatment, a topical anesthetic or numbing cream will be applied to the skin to make your treatment as comfortable as possible. Once your skin is numb, your provider will move the microneedling device across your skin, gently puncturing the skin's surface, to evenly rejuvenate your skin. The entire procedure takes about 2 hours but the actual microneedling process only takes 30 minutes.
Microneedling Results and Recovery
After your microneedling procedure, it is common for your skin to look and feel like you have a sunburn. This will subside within a day or less. Since your skin will be red and sensitive, you should avoid sun exposure and intense heat for 1-2 weeks.
Microneedling works by stimulating your body's natural collagen production and this process takes time. Results will begin to appear about 3 months after treatment and continue to improve for an additional 3 months or longer. 4-6 treatments are recommended for optimal results. After your series of treatments is completed, you will need touch-up treatments once a year to maintain your results.
Schedule a Consultation
Patients with aging skin or skin blemishes can significantly benefit from the rejuvenating properties of microneedling treatment. Schedule a consultation today at Blume Skin & Body to learn more about how you can benefit from microneedling treatment.
I went for a micro needle facial yesterday with Debbie. She did an amazing job, great experience overall, very comfortable and I'm looking forward to seeing results.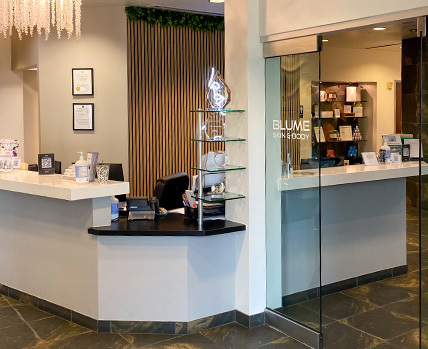 Gallery
Before & After Photos
Blume Skin & Body is committed to providing the best in cosmetic skin treatment procedures and personalized care. View our gallery of incredible results!
View Photos

If you are a new patient, you can save time during your check-in by filling out the New Patient Paperwork package. We look forward to meeting you and helping you achieve your cosmetic goals!
NEW PATIENT INFORMATION
CONTACT US
Begin Your Unique Journey