Are you bothered by signs of aging like fine lines and wrinkles? Botox cosmetic treatment is the gold standard for smoothing facial wrinkles and fine lines, helping you achieve a more youthful, naturally rejuvenated appearance.
What is Botox®?
Botox® is a neuromodulator or botulinum toxin injectable used to smooth fine lines and wrinkles. Botulinum toxin A temporarily prevents muscle contraction by blocking the signal from the nerve ending to the muscle. When the facial muscles are unable to contract, wrinkles cannot form on the overlying skin. Botox can treat crow's feet at the corners of the eyes, vertical forehead lines (frown lines), glabellar lines between the brows, and fine lines around the mouth and nose.
Botox can also be injected along the hairline and jaw to treat chronic migraine and TMJ. It is also used to treat severe underarm sweating with our hyperhidrosis treatment.
What to Expect
During your Botox® injections, a topical numbing cream can be applied to the skin, but most patients find this treatment to be minimally painful. Botox® will then be injected into the areas of concern using a tiny needle. Botox can also be combined with dermal fillers to treat severe frown lines, deeper wrinkles, and volume loss.
Botox® Results and Recovery
After Botox treatment, minor swelling, redness, and bruising are common around the injection site. Botox® usually lasts 3-4 months but this may vary slightly for each patient. As your results wear off, you can schedule another appointment to maintain your youthful appearance.
Schedule a Consultation
If you want to refresh your appearance and eliminate minor facial wrinkles, schedule a consultation for Botox injections at Blume Skin & Body. Dr. Blume is a Certified Advanced Injectable Instructor who has trained all our staff on safe and effective injectable treatment.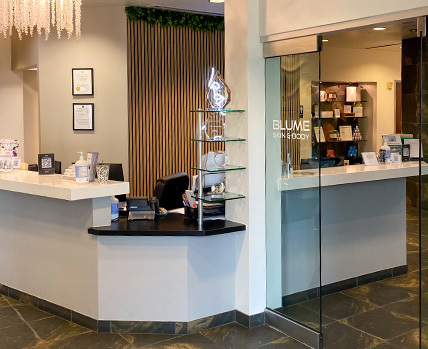 Gallery
Before & After Photos
Blume Skin & Body is committed to providing the best in cosmetic skin treatment procedures and personalized care. View our gallery of incredible results!
View Photos

If you are a new patient, you can save time during your check-in by filling out the New Patient Paperwork package. We look forward to meeting you and helping you achieve your cosmetic goals!
NEW PATIENT INFORMATION
CONTACT US
Begin Your Unique Journey