Cosmetic treatments and aesthetic services can benefit men and women! We welcome men who want to rejuvenate their appearance, reduce unwanted fat, build muscle, and achieve the anti-aging benefits of injectables, chemical peels, and facials.
Injectables
Fine lines and wrinkles can be quickly smoothed away with neuromodulators like Botox, Xeomin, and Dysport. We also offer a wide variety of dermal fillers to fill hollowed areas of the face like the cheeks and under the eyes. Dermal fillers can also be used to define the jawline and nose for a sharper, more masculine appearance. The results of these treatments are natural, and you can enjoy your renewed youthful appearance without people knowing you had any work done!
Non-Surgical Facelift
Ultherapy in an FDA-approved surgical alternative that uses non-invasive focused ultrasonic energy to lift and tighten the skin. Ultherapy stimulates collagen growth for natural rejuvenation and results that improve over time. This treat lifts and tightens skin on the face and neck to improve the appearance of heavy eyelids, sagging jowls, and wrinkles or loose skin anywhere on the face.
Laser Treatments
The IPL or BBL Photofacial is a great acne treatment and can also be used to smooth the overall texture and tone of your skin. Laser skin resurfacing has similarly amazing results that can treat age spots, rough skin texture, spider veins, acne, sun damage, and more!
Aesthetic Services
Chemical peels, deep pore cleansing, microneedling, and our wide variety of facials are all great options for men! Smooth skin tone and texture, eliminate acne scars, improve the signs of aging, and more!
Each of these treatments is customizable so you can achieve great results no matter your skin type or skin condition(s).
CoolSculpting and CoolTone
CoolSculpting and CoolTone are two amazing non-invasive technologies from Allergan. CoolSculpting freezes and destroys fat cells to tone many areas of the body such as the abdomen, flanks, thighs, and under the chin. CoolTone strengthens and tones the abs, glutes, and thighs by stimulating powerful muscle contractions.
Schedule a Consultation
The medical aestheticians and laser technicians at Blume Skin & Body are dedicated to helping all of our
patients achieve their dream body and a look they can feel confident about! Schedule a consultation today by calling our office in Scottsdale, AZ, or fill out an online contact form.
I've been seeing Julie for Botox and filler for a little over a year now. She always does an amazing job, and makes me feel comfortable during my appointment. She also takes time to ask specifics to make sure she understands exactly what results I'm looking for. She then talks me through a few options and the cost associated so I can choose the best option in my price range for the results I'm looking to achieve. I can't say enough nice things about Blume and Julie!
As someone that was extremely nervous about taking the steps toward their first few appointments, the service was and continues to be phenomenal. While it may be expensive depending on your requested services, it is worth it. They'll work with you to determine when and if any follow up appointments are truly needed, rather than just getting you in as soon as possible for another appointment. As well, you get some perks for your birthday and there's always deals on certain products that they'll gladly work with you to determine what's best.
I've been going to Blume Skin & Body for over 4 years receiving a variety of facial skin treatments and injections including my favorite B12 shots. I would not go anywhere else. The skill level and knowledge of the staff along with their customer service has been exceptional...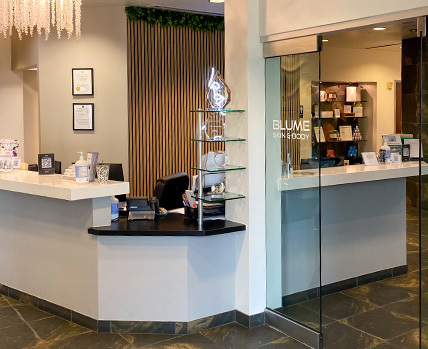 Gallery
Before & After Photos
Blume Skin & Body is committed to providing the best in cosmetic skin treatment procedures and personalized care. View our gallery of incredible results!
View Photos

If you are a new patient, you can save time during your check-in by filling out the New Patient Paperwork package. We look forward to meeting you and helping you achieve your cosmetic goals!
NEW PATIENT INFORMATION
CONTACT US
Begin Your Unique Journey