Deep pore cleansing is a facial treatment perfect for people with an oily skin type or acne-prone skin. Enjoy this in-depth facial treatment to clean out clogged pores for brighter, clearer skin.
What is Deep Pore Cleansing?
A deep pore cleansing facial combines deep cleansing with exfoliation, a facial mask, and a soothing facial massage. This deep facial rejuvenation will unclog stubborn pores and improve the appearance of congested skin in just one treatment.
What to Expect
First, your skin will be thoroughly cleansed and prepped for treatment. Next, warm steam will be applied to your face to soften your skin and open your pores, making it easier to remove impurities and clear excess oil. Your skin will also be exfoliated with medical-grade enzymes and an exfoliation wand to smooth your skin and strip away dead skin cells.
After your skin is cleansed and exfoliated, extraction will be done to unclog congested skin. High-frequency energy treatment will be used to eliminate all bacteria from your pores and reduce inflammation and redness. Deep pore cleansing is finished with a soothing facial massage and mask.
Deep Pore Cleansing Results and Recovery
After deep pore cleansing, you will immediately notice clear, smooth, glowing skin. Clogged pores will appear smaller, and your skin's surface will be refreshed and free of blemishes.
Schedule a Consultation
If you want to improve your skin health and achieve glowing skin, schedule a consultation for deep pore cleansing at Blume Skin & Body. You can learn more about our team of medical aestheticians and the services we offer by calling our office or filling out an online contact form.
I'm so pleased with my experience and interactions with the Blume employees. The customer service is outstanding. The employees are attentive and want their customers to be happy with the results they receive.I'm also loving the results from my facial procedures! I am very happy with the way I look...After the positive experiences and outcome from my Blume visits I can't imagine going anywhere else and being in such good hands.
I've been searching all over town trying to find a place that could help me to achieve the skin I've been dreaming of. After one appointment, I already feel like I no longer need to keep searching. I was uplifted when I was told I only needed minor treatment and an updated skin care regimen. Also, the staff here are so friendly and acknowledgeable!
I have been going to Blume skin and body for over seven years the customer service is amazing! They are the expert at skin care and have the latest and advanced equipment to make you look your best.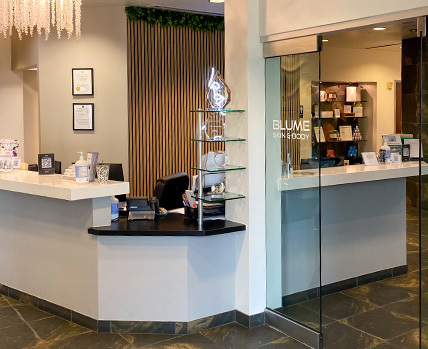 Gallery
Before & After Photos
Blume Skin & Body is committed to providing the best in cosmetic skin treatment procedures and personalized care. View our gallery of incredible results!
View Photos
If you are a new patient, you can save time during your check-in by filling out the New Patient Paperwork package. We look forward to meeting you and helping you achieve your cosmetic goals!
NEW PATIENT INFORMATION
CONTACT US
Begin Your Unique Journey