The Blume Custom Facial is the ultimate facial at Blume Skin & Body and can be customized specifically to each client's skin type and skin concerns.
What is a Blume Custom Facial?
A Blume Custom Facial starts with a consultation and skin analysis before the 6-7 step facial treatment. Since this is a customizable procedure, the Blume Custom Facial is safe for all skin types and includes a wide range of benefits for a variety of skin concerns like acne, rough texture, sun damage, and visible signs of aging.
What to Expect
Consultation
A facial will begin with a consultation. The medical aesthetician will have you fill out a form that asks questions about your skin concerns, your diet, how much water you drink, medicines and supplements you take, and skin care products you are currently using. This can affect your skin and what kind of treatments our medical aestheticians recommend.
Skin Analysis
After your consultation, the skin on your face, neck, and chest will be cleansed and your medical aesthetician will conduct a skin analysis. They will look at your skin through a brightly lit magnifying lamp to determine your basic skin type (dry, oily, combination, sensitive or normal) and skin conditions (acne, blackheads, whiteheads, aging, sun damage, dehydration, etc.) The medical aesthetician then chooses the appropriate products and treatments and consults with the patient about what she recommends.
Steam
Most facials use a machine that directs a thin vapor of warm steam to your face. This is relaxing and helps soften up any blackheads and whiteheads to be extracted. The medical aesthetician will not use steam if you have sensitive skin.
Exfoliation
The next step is exfoliation. Mechanical exfoliants have a gritty texture that rubs away dead cells on the skin's surface. This type of exfoliation usually happens during the steam process and stimulates blood flow. Chemical exfoliation uses enzymes and acids to loosen the bond between skin cells. A gentle enzyme treatment can be done during the steam process. Stronger chemical peels vary in intensity and can be stand-alone treatments or part of the facial.
Extractions
This is the removal of blackheads, whiteheads, and milia. Extractions should always be performed by a medical aesthetician since they have access to sterile equipment and can remove the acne and clogged pores more safely than a person can at home.
Facial Massage
Your medical aesthetician will use classic strokes like effleurage to both relax you and stimulate your skin and facial muscles. A mask that targets your skin type and condition will then be applied and followed by a final application of toners, serums, moisturizers, and sunscreen.
Blume Custom Facial Results and Recovery
After your facial, you will immediately see brighter, clearer skin. If you received treatment for acne breakouts, the frequency of these breakouts should gradually improve with the continued use of medical-grade skincare products. Your medical aesthetician can offer you recommendations to keep your skin healthy and vibrant.
Schedule a Consultation
To schedule your custom facial at Blume Skin & Body, visit us online or give our office a call today. We look forward to helping you restore your skin health to achieve youthful, healthy skin.
Great place! I really enjoyed my facial and will be coming back on a regular basis. The staff are great to work with. I look forward to trying new services as well. So, I'll review those when I receive them. Thank you Blume!
Caitlin gives the very best facials and skin treatments of anyone around. I've tried a few local places in Mesa, but decided the 40 minute drive to get to the Blume Center is well worth  my time! No one gets my skin so clean and glowing! 
I have been going to Blume Skin and Body for over 6 years.  I get a facial once per month.  I get Botox every 3-4 months.  I do a laser treatment on my face and neck once per year.  Sandra and her team keep me looking my best as I enter my goddess years.  The team at Blume are the most professional technicians.  They have detailed procedure protocols with the highest quality products.  The facility is beautiful and always perfectly clean.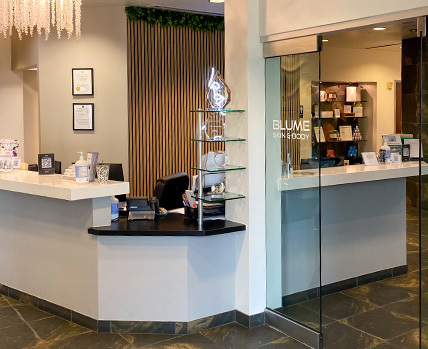 Gallery
Before & After Photos
Blume Skin & Body is committed to providing the best in cosmetic skin treatment procedures and personalized care. View our gallery of incredible results!
View Photos
If you are a new patient, you can save time during your check-in by filling out the New Patient Paperwork package. We look forward to meeting you and helping you achieve your cosmetic goals!
NEW PATIENT INFORMATION
CONTACT US
Begin Your Unique Journey