Chemical peels are a popular cosmetic treatment that offers a wide range of benefits to treat almost any skin concern. Rejuvenate your skin with a customizable chemical peel at Blume Skin & Body.
What Are Chemical Peels?
Chemical peels are cosmetic treatments that exfoliate the skin and strip away damaged skin cells to reveal brighter, healthier skin. Chemical peels are available in light, medium, and deep treatments depending on how strong the chemical solution is and how deeply it penetrates the skin. Common ingredients include glycolic acid, salicylic acid, and trichloroacetic acid and each penetrates the skin at different depths. The strength of your chemical peel will be determined based on your skin type and the conditions you wish to treat.
What to Expect
At Blume Skin & Body, you can choose from one of the following peels for your chemical peel treatment:
VI Derm Peel
The VI Derm Peel is one of the newest types of chemical peels that treats all signs of aging on the face, chest, hands, and other areas of the body. VI Derm makes superficial peels and deep peels with varying levels of strength depending on the condition of your skin. The VI Peel promotes healthy collagen production for firmer, youthful skin and effectively targets acne scars, fine lines, wrinkles, enlarged pores, hyperpigmentation, and sagging skin. VI Derm Peels can be received every 4-6 weeks and are safe for all skin types.
Illuminize Peel
The Illuminize peel from SkinMedica® is a light chemical peel used to treat fine lines and wrinkles, damage from sun exposure, and hyperpigmentation/skin discoloration. This peel requires no downtime and there is little or no peeling because of its mild formula. Treatments can be repeated every 2 weeks and are safe for all skin types.
Vitalize Peel
The Vitalize peel is a medium chemical peel from SkinMedica® that treats mild to moderate skin issues like fine lines, wrinkles, sun damage, acne scars, hyperpigmentation, and melasma. A series of 3-6 peels scheduled 3-4 weeks apart is recommended for optimal results. There is minimal downtime after the Vitalize Peel and you can expect slight peeling that lasts 2-5 days.
Chemical Peel Results and Recovery
Depending on the strength of your chemical peel, minimal or no downtime is required after the treatment. Results will last several months, and your refreshed skin can be maintained with a good skincare routine and follow-up treatments.
Schedule a Consultation
At Blume Skin & Body, our medical aestheticians are highly experienced in a wide variety of skin conditions and will help you develop the best skincare routine for your needs. Schedule a chemical peel consultation today by calling our office or filling out an online contact form.
Everyone here is super sweet, the nurses actually pay attention towards what your looking for, and the place is super clean, neat and gorgeous....It was totally worth it ! Definitely will be coming back.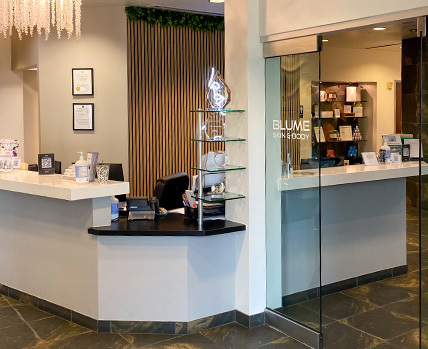 Gallery
Before & After Photos
Blume Skin & Body is committed to providing the best in cosmetic skin treatment procedures and personalized care. View our gallery of incredible results!
View Photos

If you are a new patient, you can save time during your check-in by filling out the New Patient Paperwork package. We look forward to meeting you and helping you achieve your cosmetic goals!
NEW PATIENT INFORMATION
CONTACT US
Begin Your Unique Journey