Do you want to straighten your nose or lift a drooping tip without a surgical rhinoplasty procedure? Liquid rhinoplasty is a great way to use dermal fillers as an innovative non-surgical cosmetic procedure for patients hoping to give their noses a few minor adjustments.
What is a Liquid Rhinoplasty?
Liquid rhinoplasty or a liquid "nose job" is a non-surgical alternative that can help improve the appearance of the nose shape, size, and angle. The procedure can also help camouflage minor deformities such as a dorsal hump. An ideal candidate for a liquid rhinoplasty is someone who has minor cosmetic deformities of the nose and is seeking a non-surgical alternative to surgical rhinoplasty. The procedure is not recommended for people who want to reduce the overall size of their nose, previously had a traditional rhinoplasty, or those wanting to fix structural issues, such as a deviated septum.
Liquid Rhinoplasty Benefits
Lift droopy nasal tip
Improve nasal bumps or deformities
Minimally invasive
What to Expect
Before a liquid rhinoplasty, you should stop taking blood thinners for one week and avoid alcohol the night before treatment. You should not take any antibiotics or have vaccines or dental work for 2 weeks before your appointment. Make sure to eat and be well-hydrated before your appointment.
At the start of your procedure, a topical numbing cream is applied to the skin for 15-20 minutes prior to treatment. Once you are numbed, your injector will strategically inject the dermal filler with a small syringe into various points of the nose. Arnicare cream is applied after to help with swelling and inflammation.
Liquid Rhinoplasty Results and Recovery
Liquid rhinoplasty is completed in two sessions spaced 4 weeks apart. The time between appointments gives the filler the opportunity to settle within the tissue. At the follow-up appointment, minor adjustments can be made if needed for optimal results. Results typically last 9-12 months and can be maintained with additional treatment sessions.
The treatment area may be mildly swollen, bruised, red, and tender for the first couple of days after a liquid rhinoplasty. Your nose may also appear bigger due to swelling but this is temporary. You should wait to apply makeup for 24 hours and avoid strenuous activity, sun exposure, and intense heat for 72 hours since this can increase bleeding. Make sure not to take blood-thinning medications like aspirin or ibuprofen since these can increase bruising and recovery time.
If you have severe pain, blurred vision, bruising that gets worse, or signs of an allergic reaction, please call our office immediately. However, the possible complications after a liquid rhinoplasty procedure are much lower than the possible risks of rhinoplasty surgery.
Pros of Liquid Rhinoplasty
Instant results
Minimally Invasive
Perfect for small deformities
Can lift the projection of a droopy nasal tip
Short recovery
Lower cost
Reversible
Schedule a Consultation
To determine whether you are a candidate for a liquid rhinoplasty, schedule a consultation today at Blume Skin & Body. Our expert injectors will examine your nose and discuss your desired results to determine the best treatment for your individual cosmetic goals.
I loved loved loved the results when getting Juvederm Lip Filler at Blume Skin and Body. Still healing but so far the results was beautiful and the staff was very friendly.
I've been getting Botox and Dysport for many years, but this was my first visit with Blume for Dysport and my first experience with fillers. Julie was absolutely fantastic! She was quick and efficient. Her technique pain management and comfort was great- it was virtually painless. I was apprehensive and nervous getting fillers for the first time, but Julie was able to ease my anxieties quickly. She is a true artist. She assessed my needs and made recommendations based on her assessments and my concerns. I ended up with filler in my temples and cheeks and I absolutely LOVE the results! Extremely natural and subtle, but made all the difference creating a refreshed look. Thanks again!
I've been seeing Julie for Botox and filler for a little over a year now. She always does an amazing job, and makes me feel comfortable during my appointment. She also takes time to ask specifics to make sure she understands exactly what results I'm looking for. She then talks me through a few options and the cost associated so I can choose the best option in my price range for the results I'm looking to achieve. I can't say enough nice things about Blume and Julie!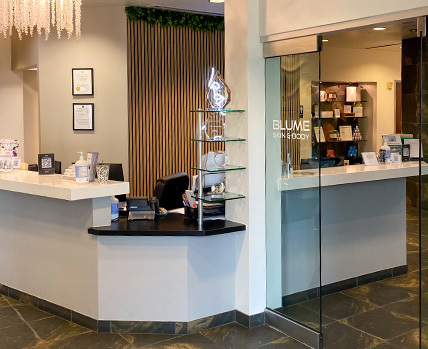 Gallery
Before & After Photos
Blume Skin & Body is committed to providing the best in cosmetic skin treatment procedures and personalized care. View our gallery of incredible results!
View Photos
If you are a new patient, you can save time during your check-in by filling out the New Patient Paperwork package. We look forward to meeting you and helping you achieve your cosmetic goals!
NEW PATIENT INFORMATION
CONTACT US
Begin Your Unique Journey