If you want a smooth, glowing skin complexion, then you will love our Geneo facial! This treatment combines exfoliation with oxygen infusion to refresh and hydrate your skin naturally.
What is a Geneo Facial?
The Geneo facial uses technology inspired by the healing properties of natural hot springs. The high concentration of carbon dioxide in these hot springs stimulates the oxygenation of the skin. Similarly, Geneo stimulates a bodily reaction (the Bohr Effect) to send oxygen to the upper skin layer in the treatment area. The Geneo applicator produces tiny carbon dioxide bubbles from an interaction between the treatment gel and skin oxygenation.
Once these bubbles permeate the surface layer of the skin, the Bohr Effect is triggered, and oxygen-rich blood is sent to the area to replace the carbon dioxide. During this process, your skin is also exfoliated to unclog pores and smooth the surface. Your treatment ends with an infusion of nutrients and vitamins that encourage healthy, glowing skin.
What to Expect
At Blume Skin & Body, we have several options for your Geneo treatment. Different infusions can be incorporated with your facial to target different skin types, conditions, and concerns.
Geneo Revive
This facial treatment will improve skin tone and elasticity while smoothing fine lines, wrinkles, and other signs of aging. It's a great choice for patients with mature or aging skin. Along with other hydrating and nourishing ingredients, this facial includes:
Red Algae: stops enzymes from breaking down collagen in the skin
Caffeic Acid: stimulate collagen production
Retinyl Palmitate: a mild form of retinol that evens skin tone and repairs sun damage
Ferulic Acid: strengthen the skin barrier and smooths fine lines and wrinkles
Geneo Glam
The Glam treatment prevents premature skin aging by strengthening the skin barrier and hydrating the skin. Some of the main ingredients found in the Geneo Glam facial include:
Red Algae: stops enzymes from breaking down collagen in the skin
Caffeic Acid: stimulate collagen production
Retinyl Palmitate: a mild form of retinol that evens skin tone and repairs sun damage
Ferulic Acid: strengthen the skin barrier and smooths fine lines and wrinkles
Geneo Illuminate
Geneo Illuminate is especially beneficial for people with hyperpigmentation or uneven skin tone. This skin-rejuvenating facial includes:
Vitamin C: brighten the skin and stimulates collagen production
Kojic Acid and Prickly Pear Extract: lighten dark pigmentation spots
Carrot Extract: repair and plump the skin
Shea Butter: contains fatty acids with anti-inflammatory properties that soften the skin
Geneo Balance
Geneo Balance is a detox treatment for oily skin prone to acne. This facial uses anti-bacterial ingredients to cleanse the skin, limit the production of sebum oil, and prevent future acne. Some of these powerful ingredients include:
Bamboo Charcoal: absorbs acne-causing impurities from the skin
Camu-Camu Extract: delivers vitamins and antioxidants that prevent UV damage and reduce hyperpigmentation
Mandelic Acid: gently exfoliate the skin by loosening dead skin cells
Willow Bark: a natural form of salicylic acid that exfoliates the skin and removes dead skin cells to improve redness and inflammation
Geneo Hydrate
This hydrating facial is a great choice for people with dry or dull skin. Key ingredients that strengthen, plump, and hydrate the skin include:
Blue Spirulina: contains antioxidants that help your skin retain moisture
Niacinamide: boosts skin metabolism and protein synthesis to improve large pores
PHA-Lactobionic Acid: gently exfoliates and hydrates the skin
Hyaluronic Acid and Vitamin B5: rehydrates the skin and improves moisture retention
Argan Oil: omega fatty acids, vitamin R, and linoleic acids soften dry skin and reduce inflammation
Geneo Detox
If you live or work in an area that constantly exposes your skin to free radicals (car exhaust, dirt, sun exposure, pollution, etc.), this Detox facial will soothe skin irritation and help you rebuild a protective skin barrier. Ingredients include:
Green Tea Extract: anti-inflammatory and anti-microbial properties
Copper Gluconate: stimulates collagen production and prevents damage from environmental factors
Marula Oil: prevents damage from free radicals such as UV rays and pollution
Calamine and Gorgonian Extract: soothes irritated red and/or sensitive skin
Champagne Facial
Get yourself red-carpet ready with our unique Champagne Facial. We will start with the Geneo facial customized to your skin's needs to exfoliate and smooth the skin's surface in preparation for an Illuminize peel from SkinMedica. This peel will give your skin a vibrant, glowing complexion coupled with the skin resurfacing of Geneo.
Geneo Facial Results and Recovery
After your Geneo facial, your skin will continue to improve and heal itself for several weeks after. Since many of our Geneo facial options contain collagen-stimulating ingredients, the results are long-lasting and provide natural deep facial rejuvenation.
Caitlin gives the very best facials and skin treatments of anyone around. I've tried a few local places in Mesa, but decided the 40 minute drive to get to the Blume Center is well worth  my time! No one gets my skin so clean and glowing! 
I'm so pleased with my experience and interactions with the Blume employees. The customer service is outstanding. The employees are attentive and want their customers to be happy with the results they receive.I'm also loving the results from my facial procedures! I am very happy with the way I look...After the positive experiences and outcome from my Blume visits I can't imagine going anywhere else and being in such good hands.
I've been going to Blume Skin & Body for over 4 years receiving a variety of facial skin treatments and injections including my favorite B12 shots. I would not go anywhere else. The skill level and knowledge of the staff along with their customer service has been exceptional...
Schedule a Consultation
Geneo facial treatment is the ultimate skin rejuvenation. By combining skin exfoliation, oxygenation, and nutrient-rich infusion, your skin will immediately look and feel healthier. Schedule a consultation at Blume Skin & Body in Scottsdale, AZ to learn more about what Geneo can do for you.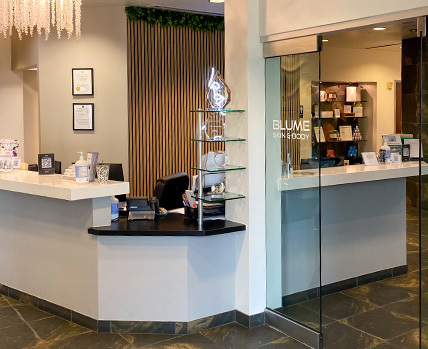 Gallery
Before & After Photos
Blume Skin & Body is committed to providing the best in cosmetic skin treatment procedures and personalized care. View our gallery of incredible results!
View Photos

If you are a new patient, you can save time during your check-in by filling out the New Patient Paperwork package. We look forward to meeting you and helping you achieve your cosmetic goals!
NEW PATIENT INFORMATION
CONTACT US
Begin Your Unique Journey