Sciton MOXI® is a preventative skin rejuvenation treatment that slows down the aging process and helps maintain healthy, beautiful skin. If you have dull or damaged skin, you may be the perfect candidate for this skin renewal laser treatment.
What is Sciton MOXI®?
Sciton MOXI® is a non-ablative laser that uses fractionated laser energy to create micro-coagulation zones (micro-channels) in the skin, replacing damaged cells with a new layer of healthy skin. It is a preventative treatment that helps maintain skin health before signs of aging set in. MOXI® can be used on the face, neck, chest, hands, arms, and legs for full-body skin resurfacing.
What to Expect
During your consultation, your provider will assess your skin to determine the right level of MOXI® for your skin type and skin conditions. A numbing cream will be applied to the skin and cool air will be gently blown onto the skin to reduce discomfort. We will also provide an eye shield to protect your eyes from the laser light emitted during treatment. Most patients find the pain to be easily manageable and different energy levels can be used to maximize your comfort. This is a fairly quick treatment that takes about 30 minutes.
Sciton MOXI® Results and Recovery
Mild redness, swelling, and tenderness are common after treatment but will resolve within a few days as the micro zones heal. Results usually appear within 3-5 days, but this can vary depending on the level of energy used. As your skin heals, dead skin and pigmented lesions will peel off, revealing an evenly toned layer of renewed skin beneath the surface. Regular maintenance treatments are recommended to maintain your results.
Schedule a Consultation
If you want to improve skin tone and texture, Sciton MOXI® is one of our favorite aesthetic treatments for preventative care. Schedule a consultation with our expert medical aestheticians by calling our office or filling out an online contact form.
I have been going to Blume Skin and Body for over 6 years.  I get a facial once per month.  I get Botox every 3-4 months.  I do a laser treatment on my face and neck once per year.  Sandra and her team keep me looking my best as I enter my goddess years.  The team at Blume are the most professional technicians.  They have detailed procedure protocols with the highest quality products.  The facility is beautiful and always perfectly clean.  Sandra and her team are regularly training on new technologies that they share with their clients.  I cannot imagine going anywhere else.  They are simply the best.
I've had several different treatments including laser treatments, Botox and filler and every treatment and provider has been amazing! I highly recommend Blume for your beauty needs, they will help you get to your aesthetic goals!
As someone that was extremely nervous about taking the steps toward their first few appointments, the service was and continues to be phenomenal. While it may be expensive depending on your requested services, it is worth it. They'll work with you to determine when and if any follow up appointments are truly needed, rather than just getting you in as soon as possible for another appointment. As well, you get some perks for your birthday and there's always deals on certain products that they'll gladly work with you to determine what's best.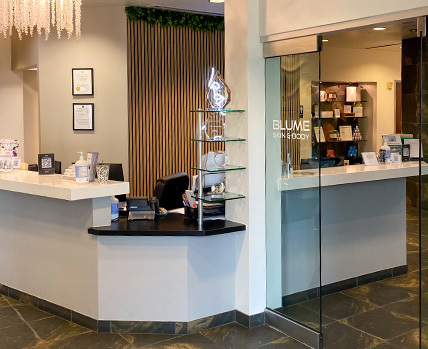 Gallery
Before & After Photos
Blume Skin & Body is committed to providing the best in cosmetic skin treatment procedures and personalized care. View our gallery of incredible results!
View Photos

If you are a new patient, you can save time during your check-in by filling out the New Patient Paperwork package. We look forward to meeting you and helping you achieve your cosmetic goals!
NEW PATIENT INFORMATION
CONTACT US
Begin Your Unique Journey