Venus Legacy is a non-surgical body contouring procedure that can lift and tighten loose skin almost anywhere on the body. If you want to enhance your contours and achieve a more youthful, toned appearance, you will love the results of Venus Legacy treatments.
What is Venus Legacy?
Venus Legacy is a non-invasive treatment that combines multi-polar radio frequency energy with magnetic pulses. This combination of technologies is called (MP)² and it allows for deep tissue rejuvenation of the face, neck, arms, thighs, abdomen, and buttocks. (MP)² generates thermal heat that stimulates the body's natural healing response and the growth of new collagen and elastin fibers. Collagen and elastin give the skin a firm, elastic texture and with the new growth, skin tightening, wrinkle reduction, and cellulite reduction are all possible.
When the skin is heated, stress hormones are also released and these attach to receptors on fat cells in the deepest layer of the skin (hypodermis). Once attached to the receptors, a hormone that breaks down triglycerides into free fatty acids is activated. As free fatty acids are released from the fat cells and into the bloodstream, fat is reduced, and you can achieve a smooth, contoured shape.
What to Expect
You will receive treatment in one of our comfortable treatment rooms where you can relax during this painless treatment. Your provider will apply a treatment gel to the skin which helps the applicator glide across the skin with smooth and consistent movements. There are various-sized applicators that can be used depending on the size of the treatment area. Patients often compare their Venus Legacy treatment to a hot stone massage.
Venus Legacy Results and Recovery
Since this is a completely non-invasive procedure, there is no recovery or downtime needed. Results will develop in about 3 months as collagen rebuilds and fat is flushed from the treatment area. Results are long-lasting and can be maintained with a few touch-up appointments every year.
Schedule a Consultation
If you want to tone your appearance and eliminate signs of aging without the need for surgery, schedule a consultation for the Venus Legacy at Blume Skin & Body.
Blume Skin and Body is the best in town if not the US! I've known Dr Blume and his staff for over a decade. They are always on the cutting edge of technology and the latest safe procedures supporting health and youthfulness. Their state of the art techniques offer high quality results. Confidentiality and privacy are also a top priority.
I have been going to Blume Skin and Body for over 6 years.  I get a facial once per month.  I get Botox every 3-4 months.  I do a laser treatment on my face and neck once per year.  Sandra and her team keep me looking my best as I enter my goddess years.  The team at Blume are the most professional technicians.  They have detailed procedure protocols with the highest quality products.  The facility is beautiful and always perfectly clean. 
I like bloom because they have great prices, really friendly and knowledgeable staff, there's no pressure, and they have a wide variety of options for what you're looking for.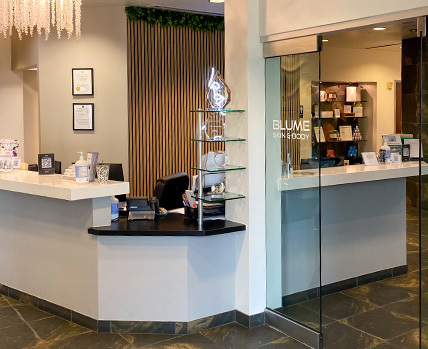 Gallery
Before & After Photos
Blume Skin & Body is committed to providing the best in cosmetic skin treatment procedures and personalized care. View our gallery of incredible results!
View Photos

If you are a new patient, you can save time during your check-in by filling out the New Patient Paperwork package. We look forward to meeting you and helping you achieve your cosmetic goals!
NEW PATIENT INFORMATION
CONTACT US
Begin Your Unique Journey