Our Laser Duo and Laser Trio treatments are great laser therapy options for patients struggling with multiple skin conditions. Treat all your concerns in one laser resurfacing procedure with a combination of medical lasers in one effective treatment.
What is Laser Duo?
The Laser Duo treatment combines two non-ablative lasers for the ultimate skin rejuvenation: Sciton Moxi laser and Lumenis ResurFx™. The ResurFx fractional laser stimulates collagen and elastin growth in the deeper layers of the skin to restore volume and firmness. The Moxi laser resurfaces the skin's surface layer to lighten hyperpigmentation, improve texture, and eliminate signs of aging like fine lines and wrinkles.
What is Laser Trio?
The Laser Trio treatment adds the BBL (broad-banded light) Photofacial to the Laser Duo to simultaneously treat vascular lesions and stubborn pigmentation spots. BBL can even treat acne and acne scars with short pulses of light that larger acne-causing bacteria without harming the surrounding tissue. This laser skin resurfacing treatment will significantly improve your skin's health and appearance.
What to Expect
Laser Duo takes about an hour and a half. The Laser Trio treatment takes 2 hours. During your laser treatment, you can relax in one of our comfortable treatment rooms while your provider cleanses your skin and then applies the laser devices to your skin. An applicator will be moved over your skin, delivering light energy to each part of your face for complete skin rejuvenation.
Laser Duo & Laser Trio Results and Recovery
Both the Laser Duo and Trio involve a short recovery period. For 3-5 days after treatment, patients may have minor swelling, bruising, and flaking of dark spots before they fall off. Patients will receive a post-kit that includes a gentle cleanser, moisturizer, and SPF; this should be used after your laser treatment, and you should avoid sun exposure to protect your newly resurfaced skin.
Schedule a Consultation
If you want to give your skin a maximum refresh, schedule a consultation at Blume Skin & Body for a Laser Duo or Trio treatment. Our certified laser technicians will ensure safe and effective laser treatment that addresses your specific skin condition and skin type.
I've had several different treatments including laser treatments, Botox and filler and every treatment and provider has been amazing! I highly recommend Blume for your beauty needs, they will help you get to your aesthetic goals!
I have been going to Blume Skin and Body for over 6 years.  I get a facial once per month.  I get Botox every 3-4 months.  I do a laser treatment on my face and neck once per year.  Sandra and her team keep me looking my best as I enter my goddess years.  The team at Blume are the most professional technicians.  They have detailed procedure protocols with the highest quality products.  The facility is beautiful and always perfectly clean.  Sandra and her team are regularly training on new technologies that they share with their clients.  I cannot imagine going anywhere else.  They are simply the best.
I've been going to Blume Skin & Body for over 4 years receiving a variety of facial skin treatments and injections including my favorite B12 shots. I would not go anywhere else. The skill level and knowledge of the staff along with their customer service has been exceptional...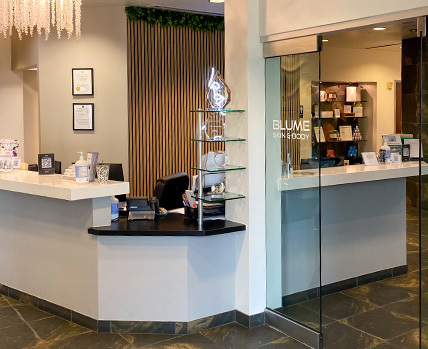 Gallery
Before & After Photos
Blume Skin & Body is committed to providing the best in cosmetic skin treatment procedures and personalized care. View our gallery of incredible results!
View Photos
If you are a new patient, you can save time during your check-in by filling out the New Patient Paperwork package. We look forward to meeting you and helping you achieve your cosmetic goals!
NEW PATIENT INFORMATION
CONTACT US
Begin Your Unique Journey