As we age, our skin loses collagen and takes on a dull appearance. A HydraFacial has endless benefits that give your skin maximum hydration and youthful rejuvenation.
What is a HydraFacial®?
The HydraFacial is a non-invasive skin rejuvenation treatment that uses advanced technology to cleanse, extract, and hydrate your skin all in one treatment. With gentle exfoliation and nourishing serums, you will immediately see glowing, refreshed skin after your treatment. There are several customized treatment options for your HydraFacial at Blume Skin & Body
Deluxe
The Deluxe HydraFacial procedure takes about 30 minutes. With your Deluxe HydraFacial, you get to choose from one of the following customized boosters:
Derm-a-builder to thicken the skin
BrightAlive from ZO to treat and prevent hyperpigmentation
Rozatrol for rosacea
JLO Beauty Booster
The JLO Beauty Booster includes all the benefits of our Deluxe HydraFacial alone with lymphatic drainage to reduce facial puffiness and a nutrient-rich booster to tighten and hydrate the skin. Your booster may include ingredients like olive leaf extract, niacinamide, or more. Lymphatic drainage is especially beneficial for patients with allergies, but anyone can receive these beauty-boosting benefits.
Platinum
A Platinum HydraFacial includes a customized booster and lymphatic draining in this 45-minute treatment. Lymphatic drainage helps to flush out toxins from your skin and reduce puffiness.
Keravive HydraFacial® Scalp Treatment
The Keravive HydraFacial is a 45-minute treatment that lets you relax in our comfortable office while your scalp is cleansed, nourished, and hydrated. Dirt, oil, and impurities will be extracted from the scamp and an infusion of growth factors and proteins will be applied to promote fuller, healthier hair. Your scalp treatment even includes a take-home spray so that you can maintain your results and the health of your scalp.
HydraFacial® Add-Ons
Diamond Tip
Diamond tip microdermabrasion exfoliates the skin before your HydraFacial to clear out clogged pores and prepare your skin to better absorb products during your facial. With this add-on, your skin will be polished and rehydrated for a healthier, youthful appearance and feel. This add-on is especially beneficial for patients with an oily skin type or acne-prone skin.
Lip Perk
A lip perk gently plumps the lips with a serum of antioxidants and nutrients. Your lips will also be cleansed and hydrated for a plump, beautiful appearance.
Eye Perk
The eye perk add-on will brighten and refresh your eyes with an application of antioxidants and nutrients. Built-up dirt, oil, and dead skin cells will also be gently removed from the lids to cleanse and hydrate the area.
What to Expect
HydraFacial treatment is a three-step process. First your skin will be thoroughly cleansed and gently exfoliated to remove dead skin cells on the surface of the skin. The second step uses a HydraFacial wand to blast the skin with clean water and suction old skin cells at the same time. This is not painful, and most patients compare this step to a cool gust of wind. Finally, antioxidants and peptides are applied to the skin and absorbed deeply into the surface layers.
HydraFacial® Results and Recovery
After a HydraFacial, no downtime is required, and you can immediately see results! However, you can receive multiple treatments for more dramatic skin rejuvenation and greater hydration.
Schedule a Consultation
Whether you have clogged pores, dull skin, or thinning hair, a HydraFacial can help! To customize your own HydraFacial treatment, schedule a consultation at Blume Skin & Body.
Caitlin gives the very best facials and skin treatments of anyone around. I've tried a few local places in Mesa, but decided the 40 minute drive to get to the Blume Center is well worth  my time! No one gets my skin so clean and glowing! 
I had a Fantastic Hydra Facial at Blume Skin & Body. Caitlin was my Aesthetician and she was very thorough and attentive. My skin felt and looked so plumped and hydrated. I cannot wait to experience that again. The staff at Blume is wonderful!! When I go into Blume Skin & Body I feel very welcome and secure that I will have the utmost top notch treatment!!
I can't say enough about the facial and hydra facials I've had at Blume with Krystal. I always leave with glowing skin that lasts for weeks on end! Krystal is knowledgeable, professional, and has made recommendations for skin care that have transformed my skin. In addition, the staff at Blume has always been a pleasure to work with. Highly recommend all around!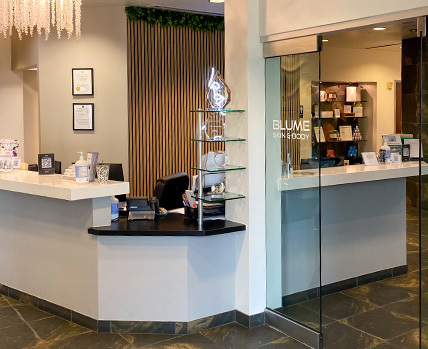 Gallery
Before & After Photos
Blume Skin & Body is committed to providing the best in cosmetic skin treatment procedures and personalized care. View our gallery of incredible results!
View Photos

If you are a new patient, you can save time during your check-in by filling out the New Patient Paperwork package. We look forward to meeting you and helping you achieve your cosmetic goals!
NEW PATIENT INFORMATION
CONTACT US
Begin Your Unique Journey