The Valmont Collagen Facial is a European luxury facial experience that uses specific facial massages to lift and tone the skin. Combined with medical-grade Valmont skin products, this facial will leave your skin looking and feeling healthier than ever!
What is a Valmont Collagen Facial?
The Valmont Collagen Facial is a relaxing skin-tightening facial that will brighten, tone, and rejuvenate your skin for a more youthful appearance. The signature Valmont collagen mask acts like a natural facelift that smooths facial lines and wrinkles, lifts and hydrates the skin, and removes impurities for a smooth finishing glow.
What to Expect
During your Valmont Collagen Facial, your skin will receive a deep cleanse and exfoliation followed by a relaxing facial massage and tension-relieving massage on the shoulders and arms. After your massage, your medical aesthetician will apply the Valmont signature collagen mask to your skin. As the mask sits on your skin, growth factors will be infused into the deep tissues to stimulate the regrowth of collagen. Your facial treatment will be completed with a finishing application of skincare products for an added lift and tightening effect.
Valmont Collagen Facial Results and Recovery
After your facial, your skin will immediately appear firmer with a refreshed, youthful glow. This is a relaxing spa treatment that will leave you feeling refreshed and stress-free. To maintain your results and continue improving the health of your skin, ask your medical aesthetician about the Valmont products you can order through our office.
Schedule a Consultation
If you want instant and long-lasting improvements for your aging skin, schedule a consultation for the Valmont Collagen Facial at Blume Skin & Body. You can call our office or visit us online to fill out a contact form and check out our Products page where you can buy some of our favorite skincare products, including the Valmont line.
Blume Skin and Body is the best in town if not the US! I've known Dr Blume and his staff for over a decade. They are always on the cutting edge of technology and the latest safe procedures supporting health and youthfulness. Their state of the art techniques offer high quality results. Confidentiality and privacy are also a top priority.
I've been going to Blume Skin & Body for over 4 years receiving a variety of facial skin treatments and injections including my favorite B12 shots. I would not go anywhere else. The skill level and knowledge of the staff along with their customer service has been exceptional...
Everyone here is super sweet, the nurses actually pay attention towards what your looking for, and the place is super clean, neat and gorgeous....It was totally worth it ! Definitely will be coming back.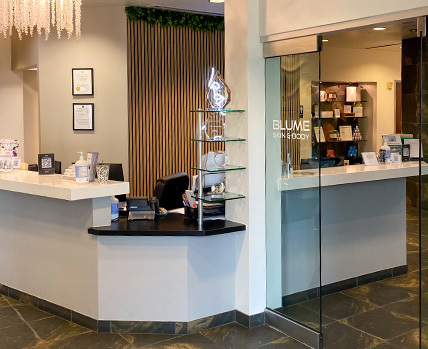 Gallery
Before & After Photos
Blume Skin & Body is committed to providing the best in cosmetic skin treatment procedures and personalized care. View our gallery of incredible results!
View Photos
If you are a new patient, you can save time during your check-in by filling out the New Patient Paperwork package. We look forward to meeting you and helping you achieve your cosmetic goals!
NEW PATIENT INFORMATION
CONTACT US
Begin Your Unique Journey