An IPL or BBL Photofacial is the ultimate treatment for hyperpigmentation, redness, and other surface imperfections. It specifically targets sun-damaged skin – the main cause of early skin damage and aging skin.
What is a Photofacial?
At Blume Skin & Body, we offer both the IPL (intense pulsed light) Photofacial and BBL (Broadband Light) Photofacial. These are similar technologies, except the IPL Photofacial uses one intense beam of light energy and BBL uses multiple wavelengths to treat larger areas on the body. The IPL and BBL Photofacials are effective treatments for a variety of skin conditions including freckles, rosacea, age spots, fine lines, and wrinkles, The overall effect is firmer, brighter, healthier skin for a refreshed look.
What to Expect
Before a Photofacial, your provider will cleanse the skin of any makeup, sunscreen, or face creams. Men will have to shave on the day of their treatment before arrival. Eye shields will be placed over your eyes and a cooling gel will be applied to the skin to alleviate any discomfort. Cold air is also blowing onto the skin to cool it as intense pulses of light are flashed over the skin.
Most patients feel minimal discomfort during their IPL or BBL Photofacial and the sensation of the light pulses has been compared to the feeling of a rubber band snapping. Photofacial skin rejuvenation can take anywhere from 30-75 minutes, depending on your skin concerns and the size of the treatment area.
Photofacial Results and Recovery
After an IPL or BBL Photofacial, your skin will be mildly red and sensitive for about one day; this is similar to the feeling of a sunburn. You will receive a post-kit with moisturizer and SPF that can be used to keep your skin healthy as it heals. For optimal results, we recommend 3-5 laser treatments scheduled 3-6 weeks apart.
Direct sun exposure (including tanning beds) should be avoided for 7-10 days after each treatment. Targeted spots of pigmentation will darken and naturally flake off in 3-14, depending on the treatment area. Do not pick at these flaking or "microcrusting" areas. An exfoliating treatment like a HydraFacial, OxyGeneo facial, or DermaSweep™ can help to remove any remaining crusting 1 week after treatment on the face and 2 weeks after treatment on the body.
Schedule a Consultation
BBL and IPL treatments are a popular form of laser therapy offered at Blume Skin & Body. If you want smoother, brighter skin, schedule a consultation today with our expert medical aestheticians.
Frequently Asked Questions
Are IPL results permanent?
Can I pluck after IPL?
Can IPL cause hyperpigmentation?
Can IPL damage eyes?
Can IPL remove flat moles?
Can IPL remove pigmentation?
Can IPL tighten skin?
Can IPL worsen melasma?
Does IPL burn fat?
Does IPL cause swelling?
Does IPL damage skin?
Does IPL get rid of broken capillaries?
Does IPL hurt on face?
Does IPL improve skin texture?
Does IPL make you look younger?
Does IPL permanently remove freckles?
How long after IPL can I exfoliate?
How long after IPL can I use retinol?
How long do IPL results last?
How long does IPL last for rosacea?
Is IPL effective for sun damage?
Is IPL good for hyperpigmentation?
Is IPL or Microneedling better?
Should you moisturize after IPL?
What happens after IPL laser on face?
What is an IPL Photofacial?
Can IPL damage your skin?
Can IPL increase hair growth?
Can IPL make brown spots worse?
Can IPL make dark spots worse?
Can you do IPL on eyelids?
Can you get IPL in the summer?
Can you use IPL on arms?
Do dark spots come back after IPL?
Does IPL get rid of thread veins?
Does IPL help dark circles under eyes?
Does IPL help wrinkles?
Does IPL hurt more than laser?
Does IPL shrink pores?
Does IPL stimulate collagen?
Does IPL work for brown spots?
How does IPL remove pigmentation?
How long does it take for brown spots to fade after IPL?
How long does it take for IPL to start working?
Is IPL a laser?
Is IPL bad for melasma?
What are the benefits of IPL treatments?
What are the risks of IPL?
What are the side effects of IPL treatment?
What happens after IPL for pigmentation?
As someone that was extremely nervous about taking the steps toward their first few appointments, the service was and continues to be phenomenal. While it may be expensive depending on your requested services, it is worth it. They'll work with you to determine when and if any follow up appointments are truly needed, rather than just getting you in as soon as possible for another appointment. As well, you get some perks for your birthday and there's always deals on certain products that they'll gladly work with you to determine what's best.
The standard of service, care and professionalism at the Blume Skin Centre are exceptional! I have recommended Dr. Blume and his staff to all of my friends, and will continue to entrust them with my skincare and beauty needs.
Blume Skin and Body is the best in town if not the US! I've known Dr Blume and his staff for over a decade. They are always on the cutting edge of technology and the latest safe procedures supporting health and youthfulness. Their state of the art techniques offer high quality results. Confidentiality and privacy are also a top priority.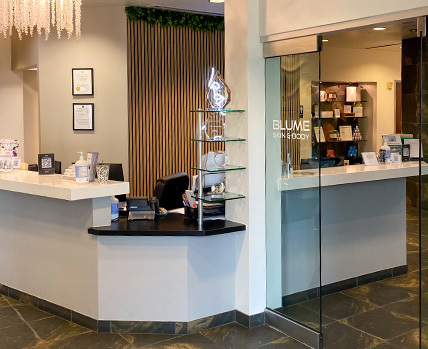 Gallery
Before & After Photos
Blume Skin & Body is committed to providing the best in cosmetic skin treatment procedures and personalized care. View our gallery of incredible results!
View Photos

If you are a new patient, you can save time during your check-in by filling out the New Patient Paperwork package. We look forward to meeting you and helping you achieve your cosmetic goals!
NEW PATIENT INFORMATION
CONTACT US
Begin Your Unique Journey