If you want a subtle lift and enhancement for your buttocks, consider a non-surgical butt lift with Radiesse® with our skilled nurse injectors. Non-surgical buttock lift procedures offer the same benefits as surgical butt lifts but with no recovery!
What is a Non-Surgical Butt Lift?
A "non-surgical BBL" is an advanced option for buttocks enhancement. This treatment creates a subtle lift by injecting a collagen-stimulating dermal filler, Radiesse®. Radiesse® is an FDA-approved injectable dermal filler with calcium hydroxyapatite that stimulates collagen production deep within the skin. It is the most effective dermal filler for this procedure because it creates both immediate and long-term results. Collagen growth creates a firming and lifting effect by adding structure beneath the surface layers of the skin.
This treatment addresses common complaints of hip indents (hip dip), age-related volume loss, dimples or just wanting a more rounded look. This treatment does not require implants, surgery, or fat grafting and you can still achieve the same beautiful results as a Brazilian butt lift procedure
What to Expect
For a subtle, non-surgical enhancement, this non-invasive treatment could be the perfect answer for you. Your nurse injector can adjust how many vials are used based on your desired results. If additional syringes are desired, the special price per syringe is $400. The treatment requires only about an hour to perform, with long-lasting results of a year or more in most patients.
Non-Surgical Butt Lift Results and Recovery
The treatment is customizable with little to no recovery process. Most patients experience some redness, bruising, and swelling around the injection site, but these are temporary effects that resolve quickly. The results of butt lift procedures with Radiesse® can last for one year or more!
Schedule a Consultation
At Blume Skin & Body, we specialize in non-surgical procedures like the nonsurgical butt lift with Radiesse ®. Schedule a consultation today by calling our office in Scottsdale, AZ, or filling out an online contact form.
Blume Skin and Body is the best in town if not the US! I've known Dr Blume and his staff for over a decade. They are always on the cutting edge of technology and the latest safe procedures supporting health and youthfulness. Their state of the art techniques offer high quality results. Confidentiality and privacy are also a top priority.
Everyone here is super sweet, the nurses actually pay attention towards what your looking for, and the place is super clean, neat and gorgeous....It was totally worth it ! Definitely will be coming back.
The standard of service, care and professionalism at the Blume Skin Centre are exceptional! I have recommended Dr. Blume and his staff to all of my friends, and will continue to entrust them with my skincare and beauty needs.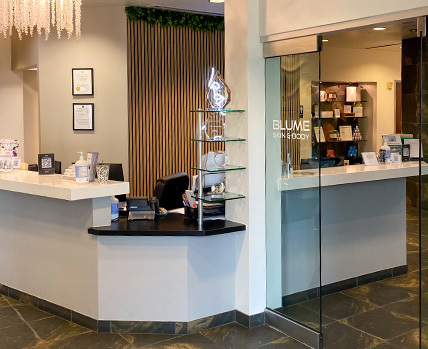 Gallery
Before & After Photos
Blume Skin & Body is committed to providing the best in cosmetic skin treatment procedures and personalized care. View our gallery of incredible results!
View Photos

If you are a new patient, you can save time during your check-in by filling out the New Patient Paperwork package. We look forward to meeting you and helping you achieve your cosmetic goals!
NEW PATIENT INFORMATION
CONTACT US
Begin Your Unique Journey