Blume Skin & Body is excited to bring you our uniquely designed treatment, BlumeSculpt Neo! This combination treatment offers skin tightening, muscle toning, and cellulite reduction in as little as one hour!
What is BlumeSculpt Neo?
The BlumeSculpt Neo is broken down into two sections: radiofrequency skin tightening and CoolTone®. Radiofrequency (RF) skin tightening delivers heat energy into the skin, which stimulates collagen production to tighten and firm the skin, improving the appearance of fine lines, wrinkles, and sagginess.
The CoolTone® treatment uses magnetic muscle stimulation to create muscle contractions that strengthen muscle fibers and build muscle mass. Over the 30-minute CoolTone® session, the muscle work is equivalent to 20,000 sit-ups or squats (depending on the area being treated).
What to Expect
During your BlumeSculpt Neo procedure, two different applicators will be used, one after the after. Both CoolTone® and RF energy treatments cause minor discomfort and require no anesthesia or numbing. RF skin tightening feels like a hot stone massage and CoolTone® feels like an intense workout. Each session is 60 – 90 minutes, depending on the area being treated. The treatment itself is quick, typically done in about an hour.
BlumeSculpt Neo Results and Recovery
The BlumeSculpt Neo treatment consists of 4 treatments done one time per week for four weeks total. After treatment, you can go about your typical daily activities without restrictions, which means no downtime! Results will continue to improve after each treatment and will continue to improve over time as new collagen develops and the muscles are strengthened.
Schedule a Consultation
Our medical aestheticians are dedicated to the best level of care for our patients. Two treatments in one means more dramatic results in half the time! To schedule your consultation for BlumeSculpt Neo, please call our office in Scottsdale, AZ, or fill out an online contact form.
I'm so pleased with my experience and interactions with the Blume employees. The customer service is outstanding. The employees are attentive and want their customers to be happy with the results they receive.I'm also loving the results from my facial procedures! I am very happy with the way I look...After the positive experiences and outcome from my Blume visits I can't imagine going anywhere else and being in such good hands.
I've been searching all over town trying to find a place that could help me to achieve the skin I've been dreaming of. After one appointment, I already feel like I no longer need to keep searching. I was uplifted when I was told I only needed minor treatment and an updated skin care regimen. Also, the staff here are so friendly and acknowledgeable!
As someone that was extremely nervous about taking the steps toward their first few appointments, the service was and continues to be phenomenal. While it may be expensive depending on your requested services, it is worth it. They'll work with you to determine when and if any follow up appointments are truly needed, rather than just getting you in as soon as possible for another appointment. As well, you get some perks for your birthday and there's always deals on certain products that they'll gladly work with you to determine what's best.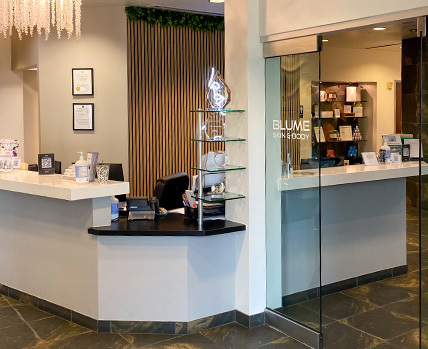 Gallery
Before & After Photos
Blume Skin & Body is committed to providing the best in cosmetic skin treatment procedures and personalized care. View our gallery of incredible results!
View Photos

If you are a new patient, you can save time during your check-in by filling out the New Patient Paperwork package. We look forward to meeting you and helping you achieve your cosmetic goals!
NEW PATIENT INFORMATION
CONTACT US
Begin Your Unique Journey