As we age, collagen breaks down and our skin loses elasticity and structure. Radiesse® stimulates collagen production to refresh your appearance for a natural-looking, youthful appearance.
What is Radiesse®?
Unlike hyaluronic acid fillers, Radiesse® is a dermal filler made from a calcium-based gel. The small calcium microspheres stimulate collagen growth and act as a scaffolding layer under the skin to add support and volume to the face. Dermal filler can fill in deeper facial folds than injectables like Botox so these treatments are often combined to smooth all facial wrinkles.
Radiesse® is commonly used to treat nasolabial folds between the mouth and nose and smile lines around the eyes. As a soft tissue filler, it can also be injected into the back of the hands to fill in wrinkled or hollowed areas; this improves the appearance of visible veins and hand wrinkles.
What to Expect
At Blume Skin & Body, your Radiesse® treatment will be performed by our highly trained nurse injectors. Although most patients feel minimal discomfort during their injections, a topical numbing cream can be applied to the skin or the Radiesse® formula can be mixed with lidocaine, a common numbing agent. Treatment is quick and injections only take about 15 minutes.
Radiesse® Results and Recovery
After Radiesse® injections, minor swelling, bruising, and redness are common around the injection site but this will quickly resolve. Although you will immediately see increased volume in the treated area, these results will continue to develop as collagen and elastin fibers develop, creating a natural-looking skin rejuvenation. Radiesse® results are clinically proven to last one year or more.
Schedule a Consultation
Radiesse® dermal fillers are a great treatment for severe facial wrinkles and we love the natural-looking results this product gives our patients. Schedule a consultation today at Blume Skin & Body by calling our office or filling out an online contact form.
This place is amazing and the people are so nice. I went there today to get some injections of Radiesse and this doctor is so skilled that you see the results immediately...They're very efficient in getting the work done and getting you in and taking care of you but not rushing you. ..I would highly recommend this skin center for anything that you need to have done.
I like bloom because they have great prices, really friendly and knowledgeable staff, there's no pressure, and they have a wide variety of options for what you're looking for.
I'm so pleased with my experience and interactions with the Blume employees. The customer service is outstanding. The employees are attentive and want their customers to be happy with the results they receive.I'm also loving the results from my facial procedures! I am very happy with the way I look...After the positive experiences and outcome from my Blume visits I can't imagine going anywhere else and being in such good hands.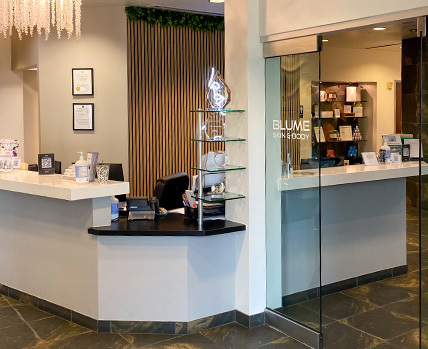 Gallery
Before & After Photos
Blume Skin & Body is committed to providing the best in cosmetic skin treatment procedures and personalized care. View our gallery of incredible results!
View Photos

If you are a new patient, you can save time during your check-in by filling out the New Patient Paperwork package. We look forward to meeting you and helping you achieve your cosmetic goals!
NEW PATIENT INFORMATION
CONTACT US
Begin Your Unique Journey