Radiofrequency (RF) body contouring and skin tightening can give you a body lift without the need for invasive surgical methods or extensive downtime.
What are Radiofrequency Body Treatments?
Radiofrequency treatments use RF energy to tighten and tone deep tissues, stimulate collagen production, and eliminate stubborn fat. These treatments can be used to improve fine lines and wrinkles, reduce cellulite, lift sagging skin, and redefine your natural contours. RF treatment is safe for almost any area of the body and is especially effective on the abdomen, buttocks, thighs, and hips. Excess fat or loose skin under the chin and on the back of the arms can also be targeted.
RF energy generates thermal heat that triggers your body's natural healing response and the growth of collagen fibers. Collagen and elastin are two proteins in your skin that give it structure and support. As the skin ages, collagen production decreases and this results in skin laxity, lines, and wrinkles. Stimulating the growth of new collagen will tighten the skin for a firmer, lifted appearance.
What to Expect
Depending on the area being treated, your RF treatment can take anywhere from 30-60 minutes. An RF-generating applicator will be placed over the skin, and you will feel a warm sensation as it gently heats the subdermal fat and dermal layers of the skin tissue. This is a relaxing procedure with no pain.
Radiofrequency Body Treatment Results and Recovery
Since radiofrequency body treatments are non-invasive, there is no downtime or recovery required. The only effects you might feel after treatment are minor redness and swelling. The number of treatment sessions needed varies among each patient, but most patients require a few treatments scheduled a few weeks apart for optimal results.
Schedule a Consultation
The benefits of radiofrequency body treatments are endless! Whether you want to eliminate stubborn fat or tone your body, our medical aestheticians and certified laser technicians can help! Schedule a consultation today at Blume Skin & Body by calling our office or filling out an online contact form.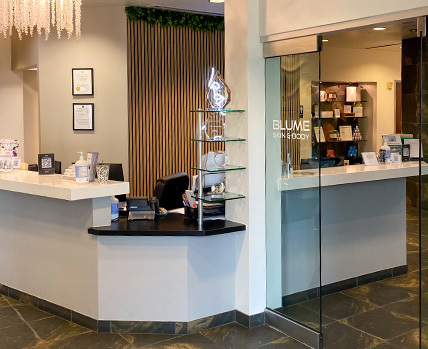 Gallery
Before & After Photos
Blume Skin & Body is committed to providing the best in cosmetic skin treatment procedures and personalized care. View our gallery of incredible results!
View Photos

If you are a new patient, you can save time during your check-in by filling out the New Patient Paperwork package. We look forward to meeting you and helping you achieve your cosmetic goals!
NEW PATIENT INFORMATION
CONTACT US
Begin Your Unique Journey