If you want to smooth unwanted facial wrinkles and improve facial volume, consider Juvéderm®. This safe and highly effective hyaluronic acid facial filler has many options specialized for a variety of skin concerns.
WHAT IS JUVÉDERM®?
The loss of natural hyaluronic acid and collagen in the skin is responsible for creating unwanted facial wrinkles. Juvéderm® is a line of FDA-approved hyaluronic acid (HA) facial fillers used to smooth facial folds and wrinkles around the cheeks, mouth, and nose and add volume to hollowed areas of the face. We carry the entire collection of Juvéderm® fillers at Blume Skin & Body:
Juvéderm® Volbella XC for the cheeks, vertical lip lines, and lip augmentation
Juvéderm® Voluma for the cheeks, chin, and other areas of age-related volume loss
Juvéderm® Vollure for nasolabial folds and moderate to severe facial folds
Juvéderm® Volux for jawline definition. This is the first and only hyaluronic acid filler approved for jawline definition!
Juvéderm® XC for smile lines or lip augmentation
Juvéderm® Ultra XC to plump the lips
Juvéderm® Ultra Plus XC for nasolabial folds and moderate to severe facial wrinkles
Volbela, Voluma, Vollure, and Volux fillers are made using HYLACROSS™ technology. Unlike other hyaluronic acid fillers, this smooth gel formula is infused with lidocaine (a numbing agent) to maximize your comfort during treatment.
What to Expect
At Blume Skin & Body, you will receive the best Juvéderm® treatment. All our nurse injectors have been trained by Dr. Blume, a Certified Advanced Injectable Instructor. Juvederm® is injected using a very fine needle and there is no need for numbing since the formula already includes lidocaine. This means you can enjoy a quick and painless treatment that only lasts about 30 minutes.
Juvéderm® Results and Recovery
Juvéderm® is the only HA facial filler that can last up to one year! After your injections, there may be some temporary redness and swelling around the injection site, but these are temporary side effects that will quickly subside.
You will notice some immediate improvements, but it can take about 2 weeks for the filler to settle and the facial tissue to plump up. Juvéderm ® Volbella lasts for about one year while the Juvéderm ® Vollure XC and Juvéderm ® Voluma XC injectable gel can last for 18-24 months. You can maintain your youthful appearance and pause the aging process with additional Juvéderm® treatments.
Schedule a Consultation
If you've been considering Juvéderm® treatment, look no further than Blume Skin & Body, a leading med spa in Scottsdale, AZ. Schedule a consultation with our expert nurse injectors today by calling our office or filling out an online contact form.
Frequently Asked Questions
Can I wear makeup after Juvederm?
Can juvederm be reversed?
Can juvederm cause blindness?
Can juvederm migrate?
Does juvederm dissolve over time?
Does juvederm expand?
Does juvederm look natural?
Does juvederm soften up?
How long after Juvederm will I see results?
How long does Juvederm last?
How many syringes of Juvederm do I need for marionette lines?
How much is a syringe of Juvederm?
Is Juvederm covered by insurance?
Is Juvederm expensive?
Is Juvederm lumpy at first?
Is Juvederm safe to use?
What to avoid after Juvederm injections?
What to expect after Juvederm injections?
Whats better Juvederm or Restylane?
Whats the difference between Botox and Juvederm?
I loved loved loved the results when getting Juvederm Lip Filler at Blume Skin and Body. Still healing but so far the results was beautiful and the staff was very friendly.
The standard of service, care and professionalism at the Blume Skin Centre are exceptional! I have recommended Dr. Blume and his staff to all of my friends, and will continue to entrust them with my skincare and beauty needs.
I like bloom because they have great prices, really friendly and knowledgeable staff, there's no pressure, and they have a wide variety of options for what you're looking for.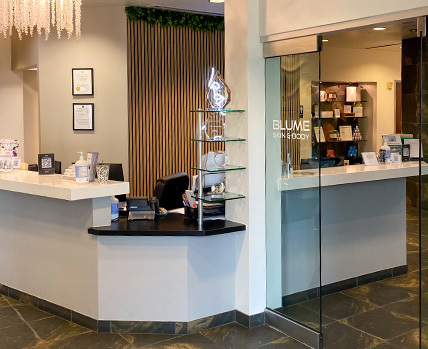 Gallery
Before & After Photos
Blume Skin & Body is committed to providing the best in cosmetic skin treatment procedures and personalized care. View our gallery of incredible results!
View Photos

If you are a new patient, you can save time during your check-in by filling out the New Patient Paperwork package. We look forward to meeting you and helping you achieve your cosmetic goals!
NEW PATIENT INFORMATION
CONTACT US
Begin Your Unique Journey