If you are tired of daily waxing, shaving, and plucking, laser hair removal can give you permanently smooth skin without unwanted hair. Eliminate body hair and facial hair in only a few painless treatment sessions with no downtime.
What is Laser Hair Removal?
At Blume Skin & Body, we rely on LightSheer® from Lumenis who have been pioneers in male and female hair removal for 50 years. LightSheer® uses precise laser energy to target and heat multiple hair follicles at once. This laser energy generates heat as it is absorbed by the melanin in the root of each hair follicle. A unique computer-guided scanner is also used to ensure your skin and the treatment area are evenly treated.
LightSheer® can be used almost anywhere on the body and can even target hormonal hair growth from polycystic ovary syndrome (PCOS). Unlike other hair removal methods that can only target dark hair on light skin, LightSheer® is effective for everyone.
What to Expect
Before laser treatment, you must avoid sun exposure for two weeks. Your skin should also be free of any active infections, open wounds, and inflammation.
At the time of your hair removal procedure, your certified laser technician will adjust the technology to give you a safe and effective procedure. For large treatment areas (back, stomach, legs, etc.), high-speed vacuum-assisted technology is used. For smaller, delicate areas like the upper lip or bikini line, your provider will use a cooled sapphire tip with ChillTipTM technology. Treatment is not painful, and most patients describe the laser as the feeling of a rubber band snapping.
Laser Hair Removal Results and Recovery
After laser hair removal, minor redness and swelling around the hair follicles is common and will resolve within a few days. During the weeks after each treatment, hairs will be shed from the treated area. Because hair regrows at different rates, a series of laser treatments are required. Results will be seen after the third or fourth treatment and within 4-6 treatments, patients will achieve permanent results. If hair does grow back in the treated area, it will be much finer and lighter than before.
Schedule a Consultation
If you are tired of the daily maintenance for unwanted hair, consider laser hair removal with our laser specialists at Blume Skin & Body. You can schedule a consultation by filling out an online contact form or calling our office in Scottsdale, AZ.
My only regret about Blume Skin and Body is that I didn't find them earlier! There were a few procedures and services I needed done; facial, waxing, laser hair treatment, lip injections....After doing research I settled on Blume. I scheduled a consultation and it was just that, a consultation with recommendations. It wasn't a sales pitch and they didn't try to convince me to buy services I had no interest it. I booked my facial and wax on the spot. Since then I've also started my laser hair removal treatments. I'll do the lip injections next year.
I've had several different treatments including laser treatments, Botox and filler and every treatment and provider has been amazing! I highly recommend Blume for your beauty needs, they will help you get to your aesthetic goals!
As someone that was extremely nervous about taking the steps toward their first few appointments, the service was and continues to be phenomenal. While it may be expensive depending on your requested services, it is worth it. They'll work with you to determine when and if any follow up appointments are truly needed, rather than just getting you in as soon as possible for another appointment. As well, you get some perks for your birthday and there's always deals on certain products that they'll gladly work with you to determine what's best.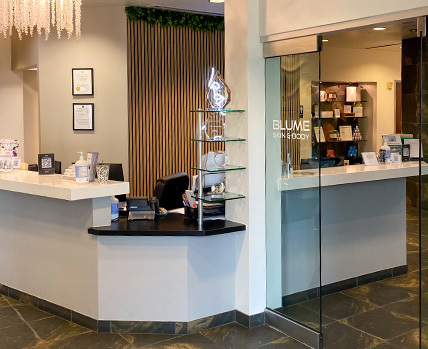 Gallery
Before & After Photos
Blume Skin & Body is committed to providing the best in cosmetic skin treatment procedures and personalized care. View our gallery of incredible results!
View Photos
If you are a new patient, you can save time during your check-in by filling out the New Patient Paperwork package. We look forward to meeting you and helping you achieve your cosmetic goals!
NEW PATIENT INFORMATION
CONTACT US
Begin Your Unique Journey