If you want to replenish facial volume and eliminate facial wrinkles, Belotero Balance® is a great option! This hyaluronic acid dermal filler offers natural skin rejuvenation and can be used to treat a wide variety of concerns.
What is Belotero Balance®?
Belotero Balance® is a hyaluronic acid (HA) dermal filler designed to treat moderate-to-severe nasolabial folds and vertical lip lines. Hyaluronic acid is a naturally occurring substance in the skin that gives it structure and helps keep it hydrated for a firm, radiant complexion. As we age, we lose facial volume because the skin loses hyaluronic acid, and collagen production decreases.
The thin consistency of Belotero Balance® makes it the ideal filler for more delicate areas like crow's feet at the corners of the eyes and "smoker's lines" which are the vertical lines above the lips. It is also a versatile hyaluronic acid gel and can even handle deep treatment areas. Like other dermal fillers, it can be used to add volume and smooth facial folds in many other areas of the face, including:
Marionette lines between the mouth and chin
Under-eye hollows (tear trough)
Vertical forehead lines (frown lines)
Lip augmentation
Jawline and cheekbones
Nasolabial folds and smile lines
Fine lines and wrinkles at the corners of the mouth
What to Expect
Our highly trained nurse injectors administer Belotero Balance® in one of our comfortable treatment rooms. After assessing your skin and discussing your concerns, your provider will inject the filler with a very fine needle into the desired treatment area(s). This is a quick treatment that most patients find minimally painful. A topical numbing cream can be applied prior to your injections if you are concerned about the discomfort.
Belotero Balance® Results and Recovery
After Belotero Balance® injections, minimal downtime and recovery are needed. Mild redness and swelling around the injection site are common but will reduce within a few days or even a few hours, depending on your skin type. You will immediately see plumper, firmer skin, and less noticeable wrinkles. Results typically last 6-9 months and can be maintained with additional treatments.
Schedule a Consultation
If you want to reverse the signs of aging with natural rejuvenation, consider treatment with Belotero Balance® at Blume Skin & Body. Schedule a consultation today by calling our office or filling out an online contact form.
I've been going to Blume Skin & Body for over 4 years receiving a variety of facial skin treatments and injections including my favorite B12 shots. I would not go anywhere else. The skill level and knowledge of the staff along with their customer service has been exceptional...
As someone that was extremely nervous about taking the steps toward their first few appointments, the service was and continues to be phenomenal. While it may be expensive depending on your requested services, it is worth it. They'll work with you to determine when and if any follow up appointments are truly needed, rather than just getting you in as soon as possible for another appointment. As well, you get some perks for your birthday and there's always deals on certain products that they'll gladly work with you to determine what's best.
I like bloom because they have great prices, really friendly and knowledgeable staff, there's no pressure, and they have a wide variety of options for what you're looking for.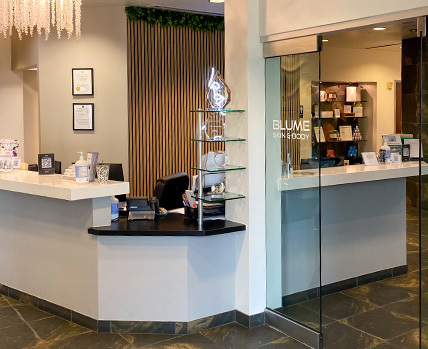 Gallery
Before & After Photos
Blume Skin & Body is committed to providing the best in cosmetic skin treatment procedures and personalized care. View our gallery of incredible results!
View Photos

If you are a new patient, you can save time during your check-in by filling out the New Patient Paperwork package. We look forward to meeting you and helping you achieve your cosmetic goals!
NEW PATIENT INFORMATION
CONTACT US
Begin Your Unique Journey