Dermaplaning is a minimally invasive procedure that will refresh your skin by improving the appearance of dull skin, acne scars, and skin blemishes.
What is Dermaplaning?
Epidermal leveling (dermaplaning) is performed in a physician's office by a licensed Medical Aesthetician. This procedure effectively removes not only the top layers of dead skin cells but also the very fine facial hair (peach fuzz) that can trap excess dirt and oil, leaving the complexion looking dull. However, this is not a hair removal procedure and will not permanently eliminate hair. Laser hair removal can be considered for this.
What to Expect
First, your face will be thoroughly cleansed to remove any dirt or residue on the surface. Next, a surgical blade is applied to the skin in a low-pressure sweeping manner. This special surgical blade carefully removes the uppermost layers on the skin's surface resulting in a refined appearance. Dermaplaning treatment can be immediately followed by a chemical peel for more dramatic skin rejuvenation.
Schedule a Consultation
If you want to restore bright, healthy skin, schedule a consultation at Blume Skin & Body to learn more about the many benefits of dermaplaning.
Everyone here is super sweet, the nurses actually pay attention towards what your looking for, and the place is super clean, neat and gorgeous....It was totally worth it ! Definitely will be coming back.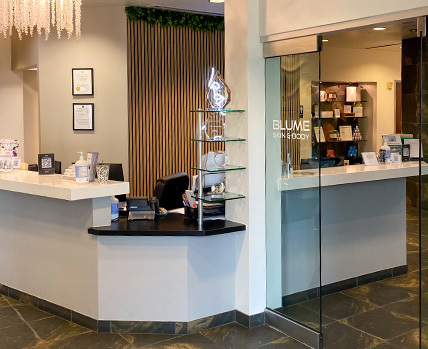 Gallery
Before & After Photos
Blume Skin & Body is committed to providing the best in cosmetic skin treatment procedures and personalized care. View our gallery of incredible results!
View Photos

If you are a new patient, you can save time during your check-in by filling out the New Patient Paperwork package. We look forward to meeting you and helping you achieve your cosmetic goals!
NEW PATIENT INFORMATION
CONTACT US
Begin Your Unique Journey