Juvéderm Volbella XC is the first dermal filler approved for tear trough repair or undereye treatment. This dermal filler is a great choice for volume restoration almost anywhere on the face and can give you a more youthful appearance by improving the appearance of undereye bags.
What is Juvéderm Volbella?
Juvéderm Volbella is a hyaluronic acid filler that was first FDA-approved for lip augmentation and correction of wrinkles on the chin and around the mouth. It is now approved for under-eye tear trough repair! Hyaluronic acid is a substance naturally found in your body that gives the skin support and structure for a glowing, firm texture. VYCROSS technology blends hyaluronic acid with a lower molecular weight that gives Volbella a softer, smoother consistency perfect for the delicate skin around the eyes. Volbella fills in the tear troughs and adds volume to create a smoother appearance that "covers up" under eye hollows. Under eye hollows can create an aged or tired appearance so Volbella filler is a great way to give you a brighter, younger look.
What to Expect
Under eye fillers need to be injected carefully so it is important you received treatment from an experienced injector. At Blume Skin & Body, all of our injectors have received extensive training so you can trust that your treatment is safe and you will achieve great results. Volbella injections are minimally painful, but a topical numbing cream can be applied at the start of our appointment to keep you as comfortable as possible. The entire procedure takes less than 30 minutes.
Volbella Under Eyes Results and Recovery
Minor bruising and swelling are possible but will reduce within a few days. To reduce the risk of bruising, it is recommended that you avoid strenuous activity for 48 hours after your Volbella treatment since exercise can increase blood flow, causing bruises to develop. You will see some immediate changes that can continue to improve for 2 weeks. Volbella under eye filler lasts for up to 18 months so you can enjoy beautiful results with fewer maintenance treatments.
Schedule a Consultation
Our experienced injectors offer a wide variety of dermal fillers and injectables that can slow down the natural aging process, improving volume loss, fine lines, and wrinkles. If you want to brighten your appearance and smooth away deep undereye hollows, consider a Juvéderm Volbella injectable treatment at Blume Skin & Body. Schedule your consultation today by calling our office in Scottsdale, AZ, or filling out an online contact form.
The standard of service, care and professionalism at the Blume Skin Centre are exceptional! I have recommended Dr. Blume and his staff to all of my friends, and will continue to entrust them with my skincare and beauty needs.
I have been going to Blume skin and body for over seven years the customer service is amazing! They are the expert at skin care and have the latest and advanced equipment to make you look your best.
I've been searching all over town trying to find a place that could help me to achieve the skin I've been dreaming of. After one appointment, I already feel like I no longer need to keep searching. I was uplifted when I was told I only needed minor treatment and an updated skin care regimen. Also, the staff here are so friendly and acknowledgeable!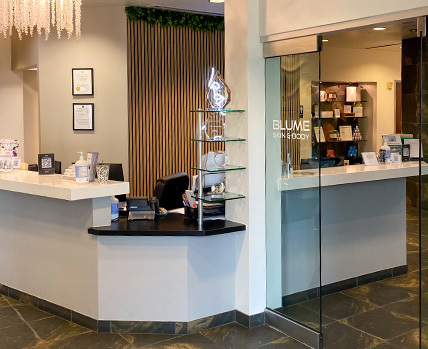 Gallery
Before & After Photos
Blume Skin & Body is committed to providing the best in cosmetic skin treatment procedures and personalized care. View our gallery of incredible results!
View Photos

If you are a new patient, you can save time during your check-in by filling out the New Patient Paperwork package. We look forward to meeting you and helping you achieve your cosmetic goals!
NEW PATIENT INFORMATION
CONTACT US
Begin Your Unique Journey