CoolSculpting® is an FDA-approved treatment that is highly effective for eliminating stubborn fat almost anywhere on the body. If you have fat that is resistant to diet and exercise, consider CoolSculpting® at Blume Skin & Body!
What is CoolSculpting®?
CoolSculpting® Elite is the most advanced fat-reduction technology from Allergan. The CoolSculpting® Elite applicators are better shaped to fully cover and treat your natural curves while providing an 18% larger cooling area than previous versions of CoolSculpting® applicators. Your provider can even use 2 applicators at the same time to tone two different areas in one treatment. CoolSculpting® can be safely used on the abdomen, thighs, buttocks, back, love handles, and under the chin to permanently eliminate unwanted fat cells.
What to Expect
CoolSculpting® treatment is a non-invasive body contouring procedure that is comfortable for most patients. The applicator will gently pull the fat bulges up and pinch them between two cooling panels that freeze fat cells under the skin. The CoolSculpting® procedure takes about one hour and during this time, you can relax, read, or work on your laptop as the applicator works its magic.
CoolSculpting® Results and Recovery
Since CoolSculpting® is a non-surgical procedure, most patients can return to their normal activities immediately after treatment. You might experience minor bruising, redness, or numbness from the intense cold, but this will quickly resolve on its own.
Results will begin to develop within 3 weeks as the dead fat cells are flushed from your body. These results and your newly toned appearance will continue to improve for an additional few months. New fat cells cannot grow back so as long as you maintain a healthy diet and exercise routine, the results will be permanent, and you will no longer feel self-conscious about bulges of fat.
Schedule a Consultation
Blume Skin & Body is proud to offer this revolutionary fat-reduction procedure. If you want to reduce fat without having to go under the knife, schedule a consultation for CoolSculpting® at our office in Scottsdale, AZ.
Frequently Asked Questions
Can CoolSculpting cause lumps?
Can I drink alcohol after CoolSculpting?
Can I get CoolSculpting if I have a hernia?
Can I use a heating pad after CoolSculpting?
Does CoolSculpting really work?
Does CoolSculpting tighten skin on arms?
Does CoolSculpting tighten skin?
Does CoolSculpting work on belly fat?
Does freezing fat hurt?
How do you expedite CoolSculpting results?
How do you freeze belly fat?
How long do you stay numb after CoolSculpting?
How much is CoolSculpting for belly?
How often can you do fat freeze?
How soon can you repeat CoolSculpting?
Is CoolSculpting for everyone?
What can I expect after CoolSculpting?
What happens if you gain weight after CoolSculpting?
What is Cryolipolysis?
Who is a good candidate for CoolSculpting?
Will fat return after CoolSculpting?
Can you take Advil after CoolSculpting?
Does CoolSculpting cause bruising?
Does CoolSculpting cause scar tissue?
Does CoolSculpting hurt?
Does CoolSculpting work on double chin?
Does CoolSculpting work on knees?
Does CoolSculpting work on neck?
Does CoolSculpting work on upper arms?
How long does CoolSculpting last?
How long does it take to see results from CoolSculpting?
How many CoolSculpting treatments are needed for thighs?
How much fat can you lose with CoolSculpting?
Is CoolSculpting permanent or temporary?
Is Cryolipolysis safe?
Is there downtime with CoolSculpting?
What are the dangers of CoolSculpting?
What is the average cost of cool sculpting?
Whats better Kybella or CoolSculpting?
Where does fat go after CoolSculpting?
Which is better liposuction or CoolSculpting?
Cool-sculpting is AMAZING .... could not have been more at ease from start to finish @blume skin and body.... Very professional staff. The space is clean and beautiful.  Any question I had were answered throughly and honestly.  The price was SO reasonable.  THE RESULTS.... omg ya the stomach of my dreams.... I lost 35 lbs and my stomach just wasn't what I dreamed of @my goal weight.. If your thing about cool sculpting @BLUME go for it!!!! Thanks BLUME
4 years ago I enjoyed every aspect of the practice from the staff to the facility itself- including the luxurious cool sculpting suite. What I think is really important to note is this is not a traditional snobby "scottsdale med spa." After performing thousands of these procedures , [Sandra] is truly an artist at placing the cool sculpting pieces exactly where they need to go which is the key to getting the results you want. The procedure was pretty much painless and the staff took every effort to make sure I was comfortable. I cant say enough great things about Blume- they are truly a state of the art practice that puts their patients needs first.
I had a great experience and I would definitely recommend them.I went there for a Cool Sculpting treatment and they were professional and attentive.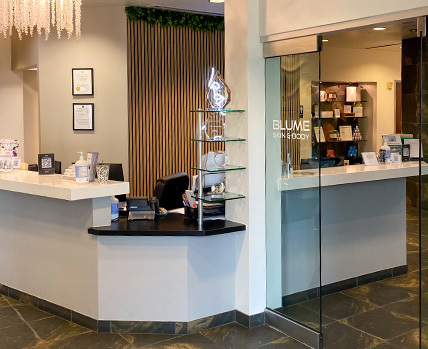 Gallery
Before & After Photos
Blume Skin & Body is committed to providing the best in cosmetic skin treatment procedures and personalized care. View our gallery of incredible results!
View Photos

If you are a new patient, you can save time during your check-in by filling out the New Patient Paperwork package. We look forward to meeting you and helping you achieve your cosmetic goals!
NEW PATIENT INFORMATION
CONTACT US
Begin Your Unique Journey