Rosacea, allergies, and dry eye can cause painful eye irritation and inflammation. Beautiful Eyes™ is the first and only IPL treatment that can resolve these painful symptoms and refresh the appearance of your eyes.
What is Beautiful Eyes™?

Beautiful Eyes™ is an innovative treatment to reduce skin inflammation and redness around and under the eyes caused by conditions like rosacea, dry eye, and allergy-irritated eyes. After working with the top laser dermatologists in the country, Drs. Roland Toyos and Laura Periman, Lumenis® got this laser treatment FDA-approved.
What to Expect

Beautiful Eyes works by heating the delicate undereye tissue with light pulses. This heat targets the abnormal vessels that are the root cause of the inflammation. By closing and reducing the feeder blood vessels this allows the tear glands to be more productive and less irritated. This treatment results in brighter, less-tired looking eyes.

Beautiful Eyes™ Results and Recovery

This treatment has no downtime and has the same contradictions and restrictions as our regular PhotoFacial. This protocol can be added to any BBL or IPL treatment since it is only an additional two passes under the eyes with the circle adaptor. This procedure does require regular maintenance treatments; the number of treatments needed will depend on the severity of the patients' issues.

Schedule a Consultation

If you want to improve the appearance of red or puffy eyes, consider Beautiful Eyes™ laser treatment as Blume Skin & Body in Scottsdale, AZ.
Blume Skin and Body is the best in town if not the US! I've known Dr Blume and his staff for over a decade. They are always on the cutting edge of technology and the latest safe procedures supporting health and youthfulness. Their state of the art techniques offer high quality results. Confidentiality and privacy are also a top priority.
I've been going to Blume Skin & Body for over 4 years receiving a variety of facial skin treatments and injections including my favorite B12 shots. I would not go anywhere else. The skill level and knowledge of the staff along with their customer service has been exceptional...
Everyone here is super sweet, the nurses actually pay attention towards what your looking for, and the place is super clean, neat and gorgeous....It was totally worth it ! Definitely will be coming back.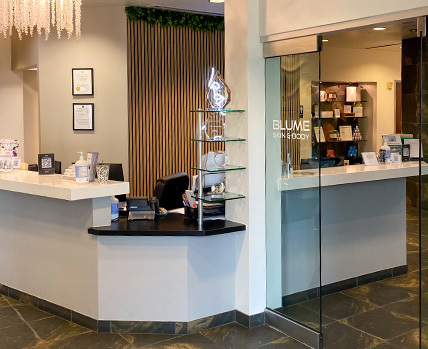 Gallery
Before & After Photos
Blume Skin & Body is committed to providing the best in cosmetic skin treatment procedures and personalized care. View our gallery of incredible results!
View Photos
If you are a new patient, you can save time during your check-in by filling out the New Patient Paperwork package. We look forward to meeting you and helping you achieve your cosmetic goals!
NEW PATIENT INFORMATION
CONTACT US
Begin Your Unique Journey