Love what you see in the mirror by redefining and lifting your body contours with triLift by Lumenis®. triLift Body tones and lifts muscles from within for non-surgical body contouring and skin tightening on the abdomen, thighs, buttocks, and more!
What is triLift Body?
triLift is a muscle stimulation device that uses three different technologies to target three elements of aging: structure, contour, and texture. The triLift treatment affects muscles, the dermal layer, and the epidermal layer of skin tissue for dramatic skin rejuvenation and muscle toning.
triLift uses Dynamic Muscle Stimulation (DMST) in sequence with TriPollar Radio Frequency (RF) and triFX RF microneedling. While triLift stimulates muscle contractions, the two RF energy devices stimulate collagen production at various levels of the skin to create structure and increase the production of hyaluronic acid.
This non-surgical treatment tones muscles, reduces wrinkles, smooths texture, and reduces the appearance of cellulite and stretch marks. Clinical studies show that triLift can increase skin smoothness by 80% and reduce wrinkles by 30%.
What to Expect
triLift treatment consists of three steps as each treatment applicator is used one at a time. The first applicator stimulates the muscles with electromagnetic energy. There are various-sized applicators with different numbers of electrodes to comfortably fit and effectively treat different-sized treatment areas.
The triLift applicator will then be following up with triFX microneedling that targets the surface of the skin to create an even texture and tone. Finally, a non-invasive TriPollar RF device gently heats the dermal layers of the skin for an additional tightening and lifting effect.
triLift Body Results and Recovery
After a triLift Body procedure, there is minimal downtime necessary, and most patients can return to their normal activities immediately. The treated area may be slightly red, swollen, or sore but this will quickly resolve within a few days.
For optimal results, we recommend starting with a series of 4 treatment-spaced one week apart. The results are shown to last up to 6-8 months and a single treatment every 3-5 months will maintain your excellent results!
Schedule a Consultation
triLift Body is an all-new way to stop aging right where it starts! Enjoy a full body lift with non-surgical body contouring when you schedule a consultation at Blume Skin & Body.
Everyone here is super sweet, the nurses actually pay attention towards what your looking for, and the place is super clean, neat and gorgeous....It was totally worth it ! Definitely will be coming back.
Blume Skin and Body is the best in town if not the US! I've known Dr Blume and his staff for over a decade. They are always on the cutting edge of technology and the latest safe procedures supporting health and youthfulness. Their state of the art techniques offer high quality results. Confidentiality and privacy are also a top priority.
The standard of service, care and professionalism at the Blume Skin Centre are exceptional! I have recommended Dr. Blume and his staff to all of my friends, and will continue to entrust them with my skincare and beauty needs.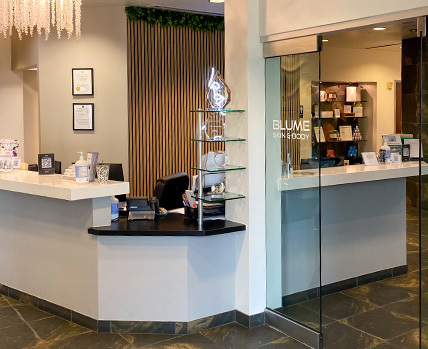 Gallery
Before & After Photos
Blume Skin & Body is committed to providing the best in cosmetic skin treatment procedures and personalized care. View our gallery of incredible results!
View Photos

If you are a new patient, you can save time during your check-in by filling out the New Patient Paperwork package. We look forward to meeting you and helping you achieve your cosmetic goals!
NEW PATIENT INFORMATION
CONTACT US
Begin Your Unique Journey