If you want to restore overall skin health and improve the appearance of aging skin, DermaSweep™ has endless benefits for a variety of skin concerns.
What is DermaSweep™?
DermaSweep™ is similar to microdermabrasion except it uses a vacuum-like device to lift the skin and then brushes away dead skin cells on the top layer of skin. Small bristles are used instead of crystal particles which makes it a safer treatment for people with sensitive skin types. This gentle suctioning of the skin stimulates blood flow and collagen development while cleaning out clogged pores. Your skin will feel firmer and look brighter after treatment.
What to Expect
During your treatment, different bristles can be used to make your treatment comfortable. Coarse bristles can treat rough skin while gentle bristles are safe for the delicate, thin skin around your eyes. As the bristles scrub away your skin's dead cells on the surface, the vacuum will lightly remove them from the skin. Infusion therapy can also be incorporated with your DermaSweep™ treatment.
DermaSweep™ Results and Recovery
Most patients require a series of DermaSweep™ treatments to achieve optimal results. Your skin will immediately feel smoother and healthier; these benefits will build after each treatment. Your newly rejuvenated skin and unclogged pores will also be better able to absorb beneficial skin products like hyaluronic acid, vitamin C, and peptides containing growth factors to improve collagen production.
Schedule a Consultation
DermaSweep™ can treat a variety of skin issues and help you achieve radiant skin. Schedule a consultation today for your skin rejuvenating treatment at Blume Skin & Body in Scottsdale, AZ.
I've been going to Blume Skin & Body for over 4 years receiving a variety of facial skin treatments and injections including my favorite B12 shots. I would not go anywhere else. The skill level and knowledge of the staff along with their customer service has been exceptional...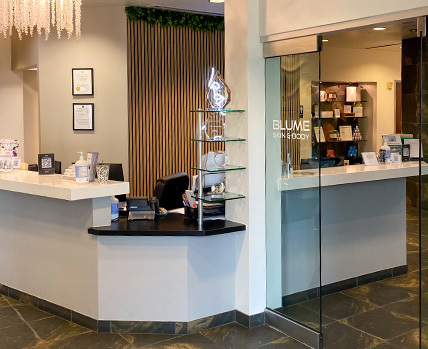 Gallery
Before & After Photos
Blume Skin & Body is committed to providing the best in cosmetic skin treatment procedures and personalized care. View our gallery of incredible results!
View Photos

If you are a new patient, you can save time during your check-in by filling out the New Patient Paperwork package. We look forward to meeting you and helping you achieve your cosmetic goals!
NEW PATIENT INFORMATION
CONTACT US
Begin Your Unique Journey