The ZO® 5 in 1 Super Facial gives your skin an instant refresh with intense hydration, polishing, and exfoliation. This facial uses one of the best brands in medical-grade skincare – ZO® Skin Health – for an effective treatment that targets a variety of skin conditions.
What is a ZO® Super Facial?
The ZO® 5 in 1 Super Facial uses medical-grade ZO® Skin Health products that are clinically proven to treat signs of aging, brighten dark spots, and improve the texture and tone of the skin. The ZO® 5 in 1 Super Facial is a great detox for all skin types that includes the following steps:
Exfoliation: We will use microdermabrasion or a chemical exfoliator to scrub away dead skin cells and stimulate healthy blood flow.
Extractions: Blackheads, whiteheads, and milia will be carefully removed.
Dermaplane "Epidermal Leveling": Peach fuzz and surface impurities like trapped dirt are gently removed with a surgical razor.
Polishing: A light chemical peel and brightening mask smoothes the skin and restores a glowing complexion.
Hydration: Hydrating ZO® Skin Health products are applied to the skin for added rejuvenation and to promote skin health.
What to Expect
ZO® 5 in 1 Facial will start with a cleanse of the face and a light steam and exfoliation. Your medical aesthetician will then apply a light enzymatic peel to the face and let it sit for 5-10 minutes. The next step is extractions and epidermal leveling followed by another light peel. After the face is neutralized and cleansed, a brightening mask will be placed on the skin for 10-15 minutes. Several ZO® Skin Health products are supplemental to the treatment and your aesthetician can offer you recommendations based on your specific skin type and concerns.
ZO® Super Facial Results and Recovery
Your skin will immediately look and feel healthier with a smooth, glowing appearance. This Super Facial is a relaxing experience so you can continue with your daily routine feeling refreshed and confident about your rejuvenated appearance.
Schedule a Consultation
To learn more about ZO® Skin Health products or to schedule your Super Facial appointment, visit us online or give our office a call. The medical aestheticians at Blume Skin & Body will help you develop a customized skincare routine and the perfect treatment plan for your unique skin type and needs.
I like bloom because they have great prices, really friendly and knowledgeable staff, there's no pressure, and they have a wide variety of options for what you're looking for.
I have been going to Blume skin and body for over seven years the customer service is amazing! They are the expert at skin care and have the latest and advanced equipment to make you look your best.
I've been searching all over town trying to find a place that could help me to achieve the skin I've been dreaming of. After one appointment, I already feel like I no longer need to keep searching. I was uplifted when I was told I only needed minor treatment and an updated skin care regimen. Also, the staff here are so friendly and acknowledgeable!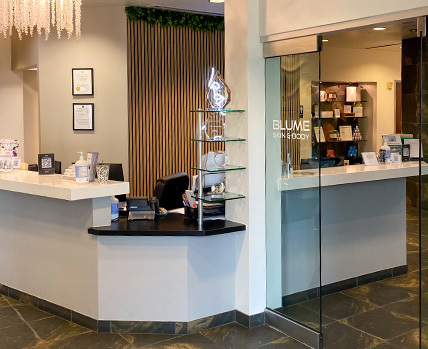 Gallery
Before & After Photos
Blume Skin & Body is committed to providing the best in cosmetic skin treatment procedures and personalized care. View our gallery of incredible results!
View Photos
If you are a new patient, you can save time during your check-in by filling out the New Patient Paperwork package. We look forward to meeting you and helping you achieve your cosmetic goals!
NEW PATIENT INFORMATION
CONTACT US
Begin Your Unique Journey