PDO thread lift treatments provide instant skin lifting with gradual improvements for natural skin rejuvenation. If you want to turn back the clock and eliminate signs of aging without the need for surgery, consider a PDO thread lift at Blume Skin & Body.
What is a PDO Thread Lift?
PDO threads are smooth sutures made from a biodegradable synthetic material called polydioxanone (PDO). The PDO thread lift is an FDA-approved treatment that can effectively lift sagging skin on the face, neck, and jowls as a less invasive alternative to facelift surgery. The PDO thread lift can also be performed on the buttocks, decolletage, arms, thighs, and abdomen.
When the PDO threads are administered, your body's natural healing process is triggered, stimulating collagen production. Collagen is a protein in the skin that provides structure and support for firm, elastic, youthful-looking skin. The skin naturally loses collagen as it ages and this causes the skin to sag and develop wrinkles. The instant lift provided by PDO threads combined with gradual collagen growth allows for long-lasting, dramatic anti-aging improvements
What to Expect
First, a local anesthetic will be injected into the treatment area so that the thread lift procedure is comfortable. PDO threads are inserted using a small cannula or hollow needle. These threads have small barbs that hook onto the skin and deep facial tissues to pull them back for a tighter, lifted appearance. Depending on the size of the treatment area, this procedure can take anywhere from 15-50 minutes.
PDO Thread Lift Results and Recovery
Since this is a minimally invasive procedure, you can expect minimal downtime without any scarring. After your PDO thread lift, your face will feel numb from the local anesthetic. Please avoid eating and drinking hot foods and liquids until this numbing effect has worn off.
PDO thread lifts create immediate results that will improve for 1-2 months as collagen regenerates. The best and final results can be seen at about 3 months. The threads will dissolve after 4-6 months but the skin tightening and lifting results will remain for an additional 6-12 months.
Schedule a Consultation
Our nurse injectors are specially trained in the newest cosmetic treatments like PDO thread lift procedures. Schedule a consultation today and see the amazing results of a PDO thread lift!
I am very happy with everything about Blume Skin and Body.  Everyone here is so nice.  Dr. Blume, Kathleen, Julie, Caitlin, Danielle – they are all so personable and you will feel very comfortable.  I've been coming here for well over a year now and they are just wonderful to deal with.  They are very knowledgeable about what they do but, more importantly, they listen to what you want and I feel that they really are interested in keeping you looking your best and (for me) as natural as possible.  It's been 6 weeks since my PDO threads and I am very happy with the results.  I just sent a photo to my daughter of a small family gathering that she was unable to attend and she said:  Wow, you look amazing!  That feels really nice at nearly 64 yrs old.
I've been going to Blume Skin & Body for over 4 years receiving a variety of facial skin treatments and injections including my favorite B12 shots. I would not go anywhere else. The skill level and knowledge of the staff along with their customer service has been exceptional...
As someone that was extremely nervous about taking the steps toward their first few appointments, the service was and continues to be phenomenal. While it may be expensive depending on your requested services, it is worth it. They'll work with you to determine when and if any follow up appointments are truly needed, rather than just getting you in as soon as possible for another appointment. As well, you get some perks for your birthday and there's always deals on certain products that they'll gladly work with you to determine what's best.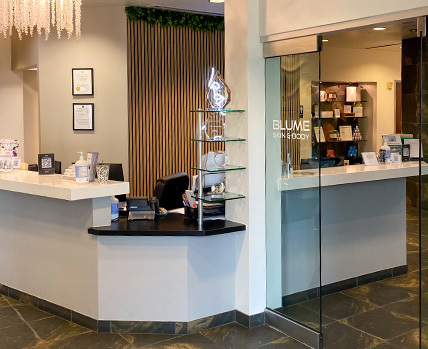 Gallery
Before & After Photos
Blume Skin & Body is committed to providing the best in cosmetic skin treatment procedures and personalized care. View our gallery of incredible results!
View Photos

If you are a new patient, you can save time during your check-in by filling out the New Patient Paperwork package. We look forward to meeting you and helping you achieve your cosmetic goals!
NEW PATIENT INFORMATION
CONTACT US
Begin Your Unique Journey