Daxxify is the newest botulinum toxin injectable that offers the same great benefits as Botox and more! Target glabellar lines (frown lines) and other fine lines with Daxxify!
What is Daxxify?
Daxxify is a newly FDA-approved neuromodulator from Revance Therapeutics. Like other neuromodulators, Daxxify is made with botulinum type A, a neurotoxin that temporarily paralyzes facial muscles to prevent repeated muscle contractions caused by facial expressions. These constant facial expressions caused by laughing, smiling, frowning, etc. result in severe lines called dynamic lines. When injected into the affected muscles, Daxxify effectively smooths those severe facial lines.
What makes Daxxify unique is that its formula is made with peptides instead of human or animal byproducts like human serum albumin. These peptides give the Daxxify formula a more cohesive structure that makes it more durable and longer lasting.
What to Expect
At the start of your cosmetic treatment, we will ask whether you want a topical numbing cream for your procedure. Injections are minimally painful and often well-tolerated without any numbing, but we will be happy to utilize an anesthetic to help you feel more comfortable. Once your skin is cleansed and prepared, Daxxify will be injected into a few points between the brows using a fine-gauge needle. The entire treatment takes less than 30 minutes
Daxxify Results and Recovery
After Daxxify, mild swelling, bruising, and tenderness around the injection site are common side effects. These will improve by themselves within a couple of days but during that time, you can use an ice pack and over-the-counter pain relievers to alleviate any discomfort. You should also avoid strenuous activity and rubbing the injection site for a few days.
Schedule a Consultation
Our licensed aestheticians at Blume Skin & Body are always looking for the newest and best cosmetic treatments for our patients. If you are interested in Daxxify in Scottsdale, AZ, we encourage you to schedule a consultation today by calling our office or filling out an online contact form
I've been seeing Julie for Botox and filler for a little over a year now. She always does an amazing job, and makes me feel comfortable during my appointment. She also takes time to ask specifics to make sure she understands exactly what results I'm looking for. She then talks me through a few options and the cost associated so I can choose the best option in my price range for the results I'm looking to achieve. I can't say enough nice things about Blume and Julie!
Everyone here is super sweet, the nurses actually pay attention towards what your looking for, and the place is super clean, neat and gorgeous....It was totally worth it ! Definitely will be coming back.
I like bloom because they have great prices, really friendly and knowledgeable staff, there's no pressure, and they have a wide variety of options for what you're looking for.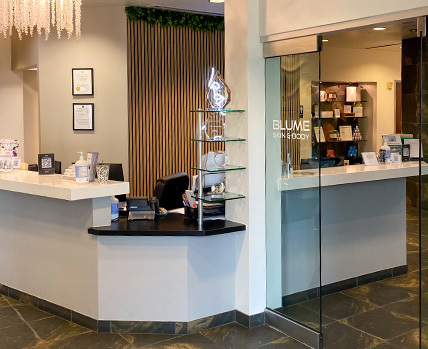 Gallery
Before & After Photos
Blume Skin & Body is committed to providing the best in cosmetic skin treatment procedures and personalized care. View our gallery of incredible results!
View Photos

If you are a new patient, you can save time during your check-in by filling out the New Patient Paperwork package. We look forward to meeting you and helping you achieve your cosmetic goals!
NEW PATIENT INFORMATION
CONTACT US
Begin Your Unique Journey