Ultherapy® is considered a non-surgical facelift because of its ability to treat saggy skin and signs of aging with just one treatment.
What is Ultherapy®?
Ultherapy® is the only FDA-approved treatment that uses focused ultrasound energy to lift and tighten loose skin on the neck, chin, and brow for a non-surgical facelift. Ultrasonic energy heats the dermal layers beneath the skin's surface and triggers collagen growth to improve skin elasticity. As we age, collagen production decreases and this causes fine lines, wrinkles, and sagging skin to develop. Ultherapy repairs the skin and eliminates these signs of aging for a rejuvenated, youthful appearance.
What to Expect from Ultherapy®
During your treatment, medications can be prescribed to make the process as comfortable as possible. A recent software upgrade called Ultherapy® Amplify has made the treatment more comfortable than ever and most patients do not experience any discomfort.
Ultherapy® Results and Recovery
After Ultherapy® treatment, minor redness is common for about one hour and some patients experience mild swelling and bruising. This will reduce in a few days. Since Ultherapy® works by stimulating collagen production, results take time to develop – usually 3-6 months. You will see tighter skin with a firmer texture and glowing complexion. Results last for years and even as your skin continues to age, your skin will still have new, healthy collagen.
Schedule a Consultation
If you want to treat skin aging without invasive surgical procedures, Ultherapy is the perfect treatment for you! Schedule a consultation today at Blume Skin & Body in Scottsdale, AZ.
Frequently Asked Questions
Can estheticians perform ultherapy?
Can I do Botox before ultherapy?
Can ultherapy damage your skin?
Can you get ultherapy after Botox?
Does ultherapy remove fat?
Does ultherapy replace Botox?
Does ultherapy work on forehead?
Does ultherapy work on older skin?
How long does ultherapy swelling last?
How many years does ultherapy last?
How often should I get ultherapy?
How soon will I see results from ultherapy?
What can I expect from ultherapy?
What is the best neck tightening procedure?
What is the best procedure for skin tightening?
What is ultherapy and how much does it cost?
Which is better ultherapy or fillers?
Which is better ultherapy vs Fraxel?
Who is a good candidate for ultherapy?
Does ultherapy cause bruising?
Does ultherapy get rid of double chin?
Does ultherapy make melasma worse?
Does ultherapy melt fillers?
Does ultherapy work on turkey neck?
Does ultherapy work on upper arms?
How long does ultherapy last on the neck?
How long does ultherapy last?
Is ultherapy good for jowls?
Is ultherapy preventative?
Is ultherapy safe for eyes?
What are the side effects of ultherapy?
What is ultherapy brow lift?
What should I avoid after ultherapy?
What should I do before ultherapy?
Whats better ultherapy or Thermage?
Had the Ultherapy treatment on my neck with Sandra. Can't wait to see the results. As an aside, I had been to my Primary Care Dr and told her I was having it done - she looked it up and read some reviews saying how much it hurt (also said her dermatologists just had it done) and wanted me to let her know. So, of course, I then was a bit worried BUT Sandra put me at ease and it was NOT painful. I have to say Blume Skin Centre and Sandra does everything possible to make any and all treatments pleasureable.I will tell my Dr to go to Sandra at Blume Skin and NOT who her dermatologist went to!
As someone that was extremely nervous about taking the steps toward their first few appointments, the service was and continues to be phenomenal. While it may be expensive depending on your requested services, it is worth it. They'll work with you to determine when and if any follow up appointments are truly needed, rather than just getting you in as soon as possible for another appointment. As well, you get some perks for your birthday and there's always deals on certain products that they'll gladly work with you to determine what's best.
I'm so pleased with my experience and interactions with the Blume employees. The customer service is outstanding. The employees are attentive and want their customers to be happy with the results they receive.I'm also loving the results from my facial procedures! I am very happy with the way I look...After the positive experiences and outcome from my Blume visits I can't imagine going anywhere else and being in such good hands.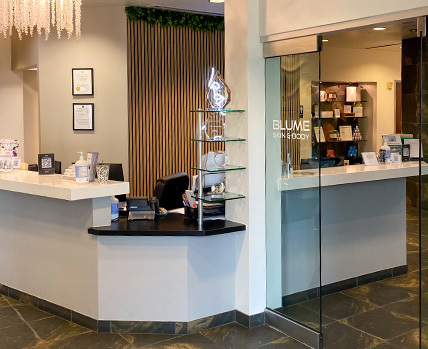 Gallery
Before & After Photos
Blume Skin & Body is committed to providing the best in cosmetic skin treatment procedures and personalized care. View our gallery of incredible results!
View Photos

If you are a new patient, you can save time during your check-in by filling out the New Patient Paperwork package. We look forward to meeting you and helping you achieve your cosmetic goals!
NEW PATIENT INFORMATION
CONTACT US
Begin Your Unique Journey