It's not easy to lose weight and stay on track with your fitness goals. Semaglutide is medication that can make your weight management a little easier by suppressing your appetite to feel full sooner and lose weight faster.
What is Semaglutide?
Semaglutide is a medication designed to help with chronic weight management in obese adults with a BMI (body mass index) over 30.
Semaglutide is administered as an injection once per week in combination with a reduced-calorie diet and exercise program. Semaglutide is made from a glucagon-like peptide-1 (GLP-1) that naturally works in the body to control appetite and digestion. The GLP-1 triggers a release of hormones that cause you to feel full, therefore helping you eat less and lose weight quicker.
It is important to note that Semaglutide is not safe for people with the following personal or family history of the following conditions: type 1 diabetes, kidney disease or acute kidney injury, history of thyroid tumors or medullary thyroid carcinoma (MTC), pancreatic disease, or cancer. Pregnant and breastfeeding women should also wait to take this medication.
What to Expect
At the start of your treatment, your provider will discuss your medical history with your in detail to avoid potential drug interactions and other complications. If you have any of the above medical conditions, we may recommend another treatment option.
Semaglutide will be prescribed with single-use injection pens that are used on the same day each week. Injections can be given at any time of the day with or without food and should be administered in the abdomen, upper arm, or thigh. You will be started at a low dose of our Semaglutide and our team will gradually increase it every four weeks as needed. Patients typically start at 0.5mg and work their way up to 2.4 mg after a few months.
Semaglutide Results and Recovery
Semaglutide works with the gastrointestinal system so there are potential side effects like constipation, nausea, abdominal pain, low blood sugar, allergic reactions, and acid reflux. However, We will closely monitor your medication schedule to prevent these possible side effects. In clinical studies, patients lost about 15% of their body weight within 16 months.
Schedule a Consultation
Semaglutide is a form of chronic weight management. If you need help losing weight and want to improve your physical health and quality of life, schedule a consultation today for Semaglutide in Scottsdale. Our team looks forward to meeting you and helping you on your weight loss journey!
Blume Skin and Body is the best in town if not the US! I've known Dr Blume and his staff for over a decade. They are always on the cutting edge of technology and the latest safe procedures supporting health and youthfulness. Their state of the art techniques offer high quality results. Confidentiality and privacy are also a top priority.
Everyone here is super sweet, the nurses actually pay attention towards what your looking for, and the place is super clean, neat and gorgeous....It was totally worth it ! Definitely will be coming back.
The standard of service, care and professionalism at the Blume Skin Centre are exceptional! I have recommended Dr. Blume and his staff to all of my friends, and will continue to entrust them with my skincare and beauty needs.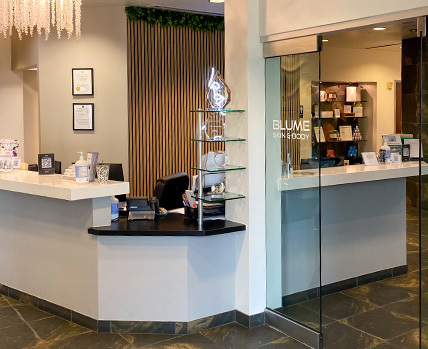 Gallery
Before & After Photos
Blume Skin & Body is committed to providing the best in cosmetic skin treatment procedures and personalized care. View our gallery of incredible results!
View Photos

If you are a new patient, you can save time during your check-in by filling out the New Patient Paperwork package. We look forward to meeting you and helping you achieve your cosmetic goals!
NEW PATIENT INFORMATION
CONTACT US
Begin Your Unique Journey